Let's be frank, we all know that Windows is a resource-intensive platform and it consumes most of the system resources if you are not familiar with the best ways to maintain your PC's performance. Also, issues like 100% disk usage in Windows 11 make things worse. Well, to fix these shortcomings, Microsoft has come up with an exciting new feature called Efficiency Mode in Windows 11 22H2 which aims to reduce CPU power consumption, reduce fan heat and noise, and improve performance. battery life. So, if you want to know more about Efficiency mode in Windows 11 Task Manager, go through this detailed article.
Efficiency Mode in Windows 11: Explained (2022)
In this guide, we've covered the basics of Efficiency Mode, as well as how it works in the redesigned Task Manager. Apart from this, if you have already installed Windows 11 22H2 update on your PC, we have also added steps on how to enable or disable Efficiency Mode. Expand the table below to learn more.
What is Efficiency Mode in Windows 11 and how does it work?
As part of Microsoft's sustainable software initiative, Efficiency mode in Task Manager is an effort to reduce stress on the processor, reduce fan noise, improve thermal performance, and provide better battery life on Windows 11. It was previously known as Eco Mode and was first added in Windows 10 last year. Now, Microsoft has made some key changes and launched Efficiency mode with the redesigned task manager.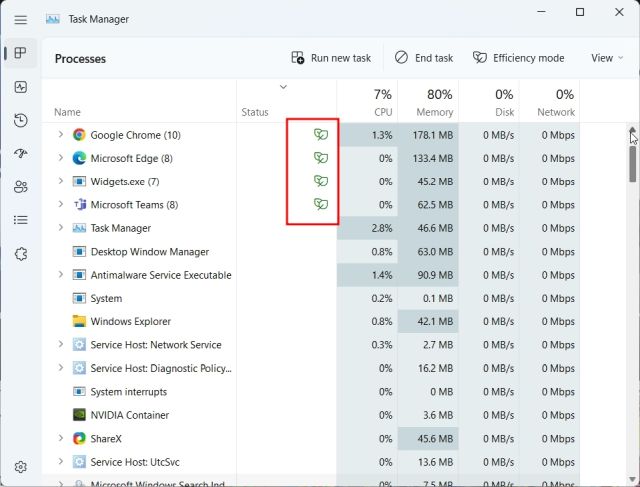 Efficiency mode essentially prevents background processes from interfering with foreground tasks that the user is actively using. And it does this by doing two things, which are:
First, the Efficiency mode lowers the priority of the process background tasks so that Windows does not allocate significant resources to these applications.
Second, it deploys something called EcoQoSwhich is a quality of service package that reduces the clock speed for efficient tasks.
For example, to run background services such as indexing, updates, scheduled tasks, sync engines, etc., you don't need the CPU to run at a speed of high clock at all times. Therefore, developers can implement the Power limitation API to let system know it can apply EcoQoS on this wire, which ultimately results in better battery life and reduced thermal throttling and noise.
To sum up, Windows 11's Efficiency mode is Microsoft's latest way to improve battery life by lowering the priority of processes or tasks and lowering the clock speed for background tasks.
How to Enable and Use Efficiency Mode in Windows 11
That said, let's learn how you can enable or disable Efficiency mode for any process or application from Task Manager in Windows 11:
1. First, you need to access Task Manager to use this feature. To do this, press the Windows 11 keyboard shortcut "Ctrl + Shift + Esc" to open Task Manager.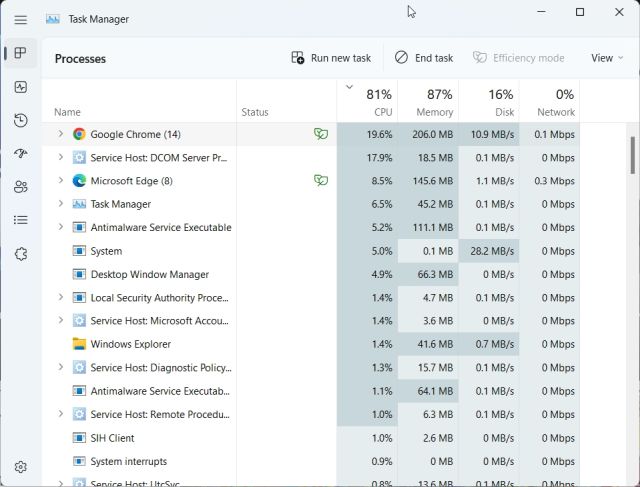 2. Next, find the program that consumes most of your CPU resources. To do this, click on the "CPU" label to rearrange the apps in ascending order and see which one is using the most CPU.
Then select the process and click on the "Efficiency Mode" option in the upper right corner. Note that if Efficiency Mode is greyed out, it means the process is a basic Windows process and you cannot use Efficiency Mode.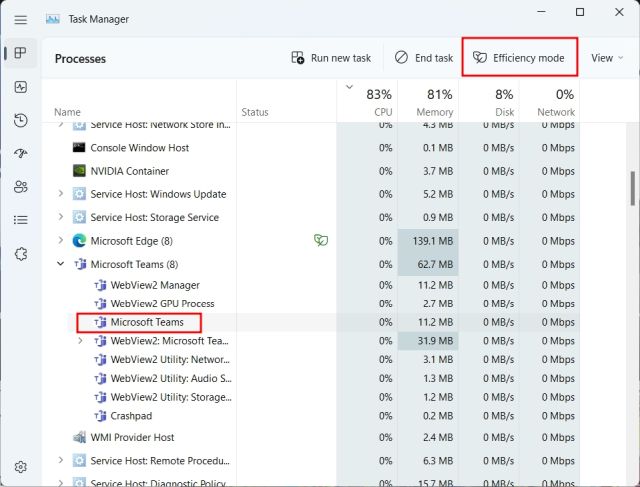 3. After that, click "Enable Efficiency mode" in the pop-up window that appears on the screen.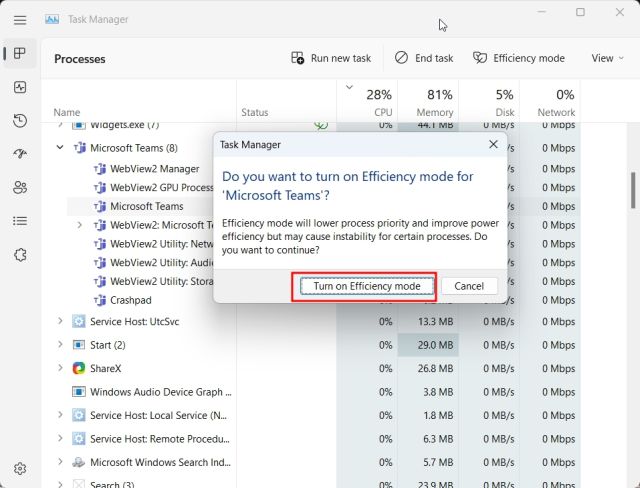 4. You can also expand the process group and right click on the program to use efficiency mode in Windows 11.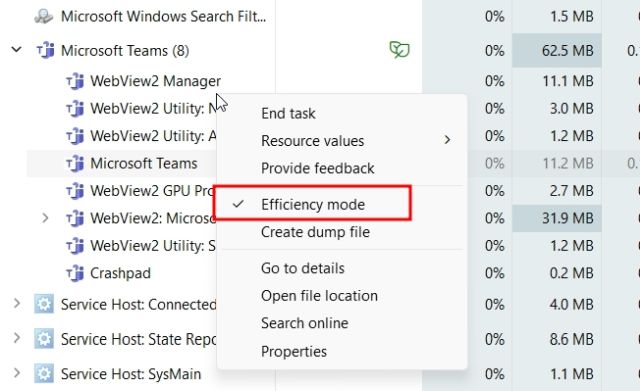 5. If a process is already using Efficiency mode, you will find a green leaf icon under the "Status" column in Task Manager.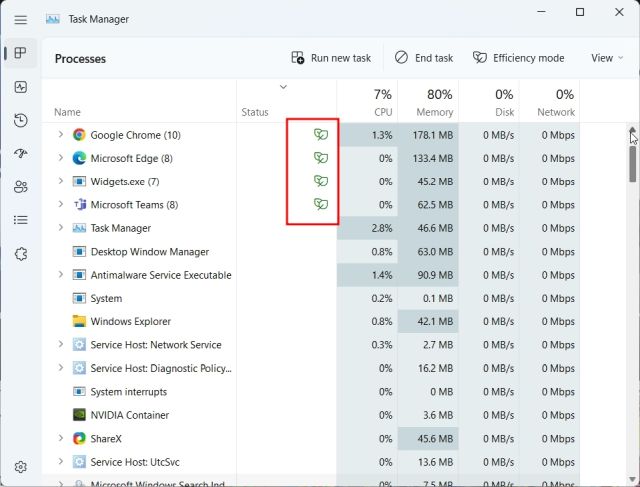 6. As you can see here, efficiency mode is already enabled for Microsoft Edge and Google Chrome. For those who don't know, Chrome already uses energy efficiency APIs on Windows 11 and lowers the base priority when not in use. However, you can still expand the Chrome process tree and force enable Efficiency mode for that.
How to Disable Efficiency Mode in Windows 11
To disable efficiency mode for an app, right-click on its process and simply uncheck the "Efficiency Mode" option.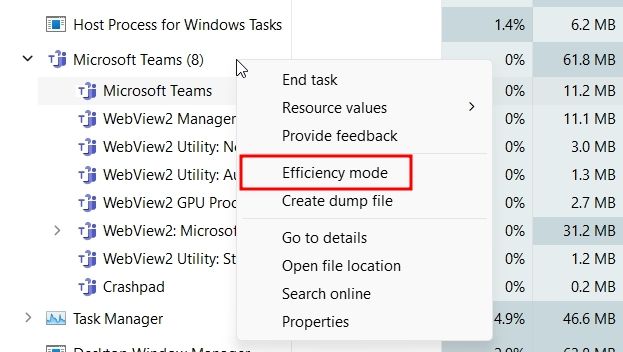 Improve Battery Life on Windows 11 with Efficiency Mode
So this is the new feature of Efficiency mode on Microsoft's latest desktop OS Windows 11 22H2 update. Along with Windows 11's eco-conscious update mechanism, this feature will help Microsoft contribute to its Carbon Negative initiative by 2030. We like Microsoft's commitment to climate change and how the company is improving. strives to keep its commitment. That aside, if you want to enable tabs for File Explorer in Windows 11, follow our linked guide for detailed steps. And if you have any questions, let us know in the comments section below.