Frankly, I love Windows 11 for a number of cool features, new design language, and smooth user interface. However, Windows 11 has a few issues that remind us of Windows 10 days. For example, Windows 11 sometimes shows a black screen after an update, which makes the experience bitter especially for those who are upgrading to Windows 11 from Windows 10. Now there is another set of RAM related issues on Windows 11, making users regret their decision to upgrade to Windows 11. Memory issues such as high RAM usage, memory leaks and low memory plague Windows 11 users So here is a one-stop guide to fix memory issues on Windows 11. If you are having RAM issues on Windows 11, follow our tutorial below.
Fix memory issues in Windows 11 (2022)
In this tutorial, we have included fixes for several RAM issues on Windows 11. From memory leaks on Windows 11 to detecting faulty RAM, we have included all the fixes and tools to better understand the memory issue. You can expand the table below and jump to the section of your choice.
How to Check for Memory Leaks on Windows 11
Although the memory leak issue resulting from File Explorer on Windows 11 has been resolved by Microsoft, you can confirm if you are still affected and follow the fix below if you are still experiencing the issue. Here's how to check for memory leaks on Windows 11.
1. Press the Windows 11 keyboard shortcut "Windows + R" to open the Run window. Here, type resmon and press Enter. This will open the Resource Monitor.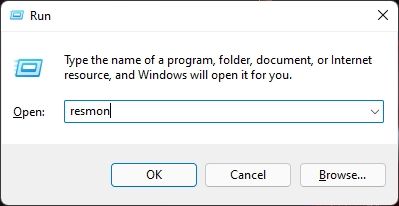 2. Now switch to the "Memory" tab and take a look at the "Be ready"Memory. Be sure to close all applications and windows. If no applications are running and File Explorer is closed, standby memory should free up and memory usage should If the standby memory still seems high and Windows 11 won't release the memory, that means you have memory leak problem in Windows 11.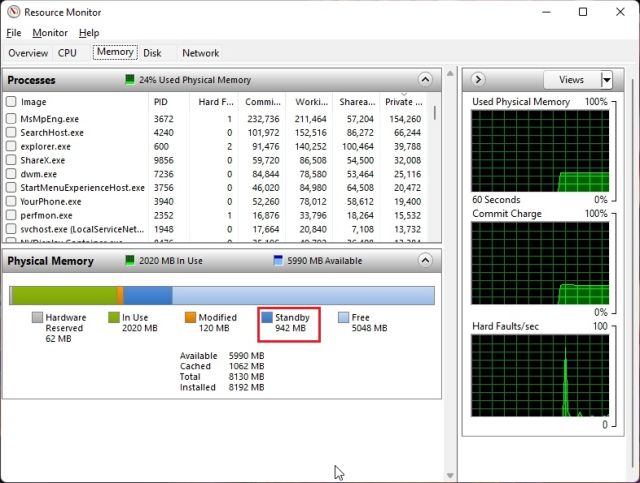 Close File Explorer to Fix Memory Leak
Until now, File Explorer on Windows 11 was known to cause the memory leak issue. So first we need to perform some basic steps in order to free the memory held by the system. Here are the steps to follow.
1. To fix memory leak issue in Windows 11, close all file explorer windows. Simply right-click on the File Explorer icon in the taskbar and click "Close all windows".
2. Then press "Ctrl + Shift + Esc" to open Task Manager. Then, under the "Processes" tab, find "Windows Explorer". Right-click on it and click "Restart". This will restart Windows Explorer, which should free up more RAM on Windows 11.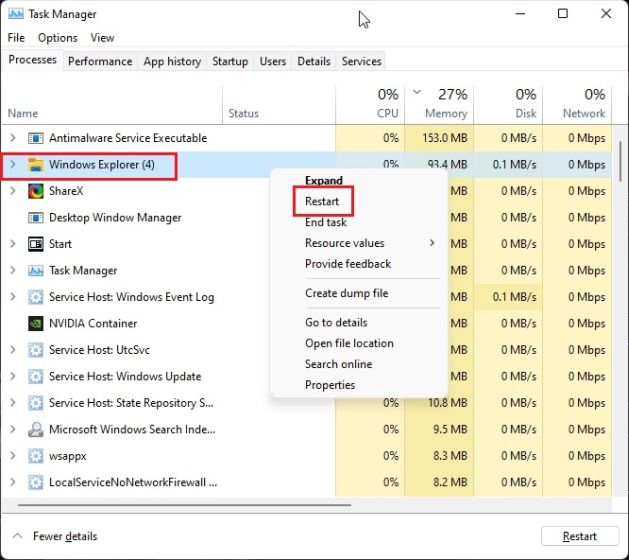 Change File Explorer Folder Options
Some users reported that opening folder windows in a separate process helps fix memory leak issue on Windows 11. Try the steps below and see if that fixes the problem.
1. Press "Windows + E" to open File Explorer. Click the 3-dot menu on the top menu bar and open "Choice".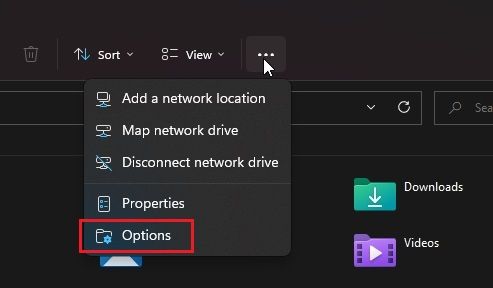 2. Here, switch to the "Display" tab and scroll down under the "Advanced settings". Now check the box for "Launch folder windows in a separate process".
3. Finally, press "OKAY" and restart your PC. As of now, Windows 11 shouldn't reserve an unusual amount of memory for File Explorer.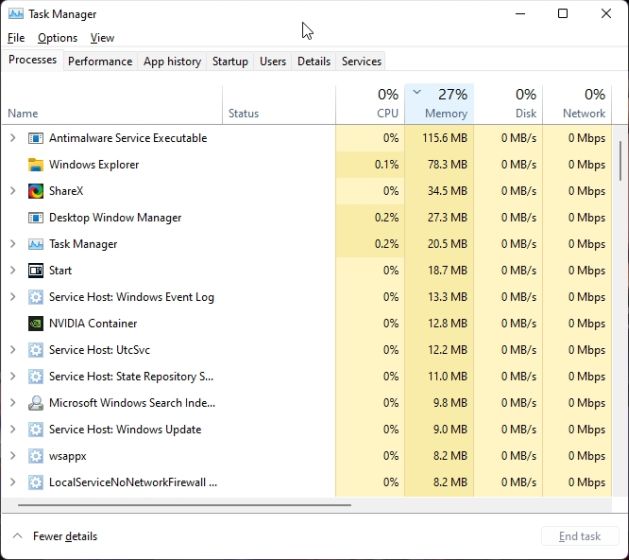 Disable startup programs
In our article on how to speed up Windows 11, we noted that disabling unnecessary startup programs greatly frees up startup resources and prevents high RAM usage on Windows 11. For better maintenance, you should always disable unnecessary startup programs. Here's how.
1. Press "Ctrl+Shift+Esc" to open task manager. Now go to "starttab ".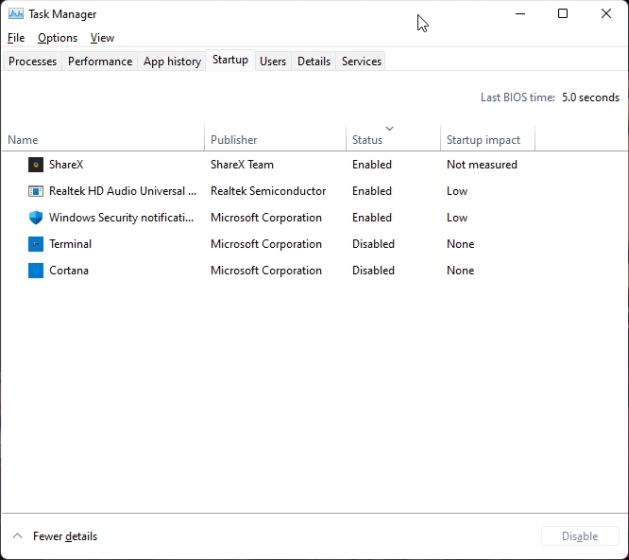 2. Here, find the programs which are not needed after login. Right click on the program and turn them off immediately. If there is an unidentified program, be sure to disable it. Now restart your PC and a huge amount of RAM should free up.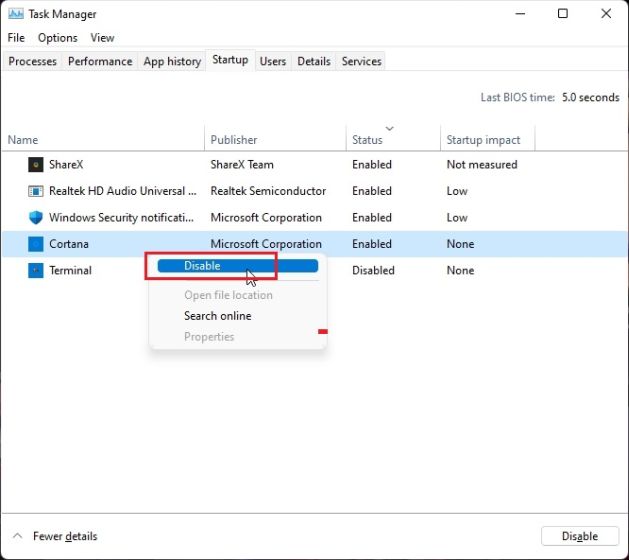 Increase virtual memory
If you have little physical memory, you can increase the size of virtual memory, also known as "swap". Basically Windows 11 will be use certain sectors of the hard disk as RAM when your PC is low on memory. This will help you tremendously against high RAM usage in Windows 11. Here's how to set it up
1. First, press the Windows key once and search for "advanced system". Open "View advanced system settings".
2. In the "System Properties" window, click on "Settings" under the "Performance" section.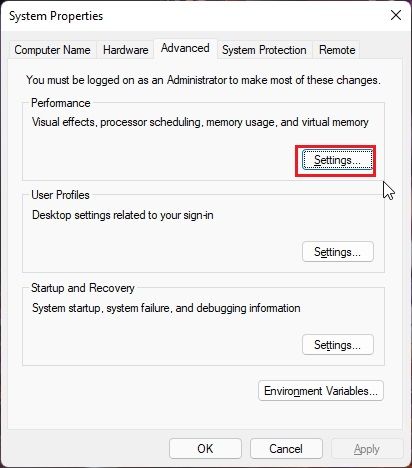 3. In the next window, switch to the "Advanced" tab and click "Switchunder "Virtual memory".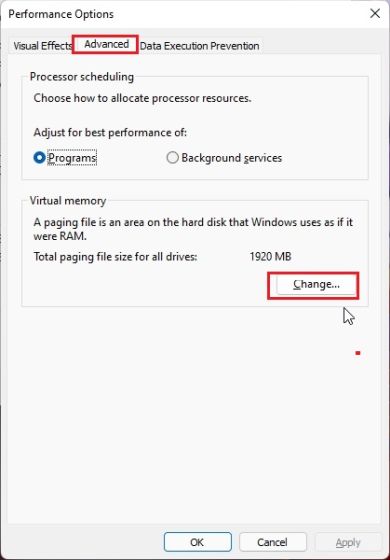 4. Uncheck "Automatically manage paging file size for all drives" at the top and click "Custom size". In the "Initial size" field, enter what is recommended below. For example, I set "1912" as the initial size. As for the "Maximum size", enter 4096. This provide 4 GB additional virtual memory on your Windows 11 PC. Now click Set -> OK.
To note: You can set the maximum size up to 3 times the physical memory. So if you have a PC with 8 GB of physical RAM, you can configure up to 24 GB (24576 MB) of virtual memory.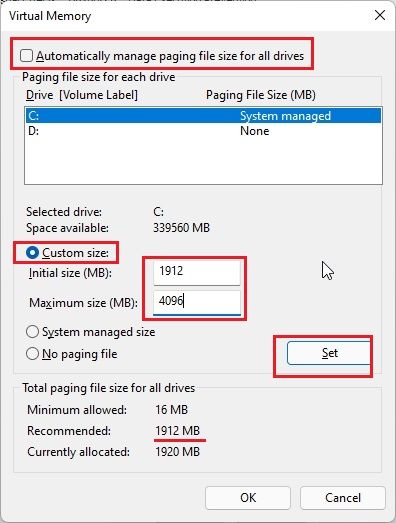 5. Finally, restart the PCand the low RAM issue should be fixed on Windows 11.
Diagnose memory issues in Windows 11
If Windows 11 crashes or freezes for some inexplicable reason, most likely it is faulty RAM in your PC. Windows 11 comes with a Windows Memory Diagnostic Tool which performs several basic and advanced tests to check the reliability of RAM. We will use this tool to find possible memory problems.
1. Press the Windows key once and search for "tools". Now open "Windows Tools" from the search result.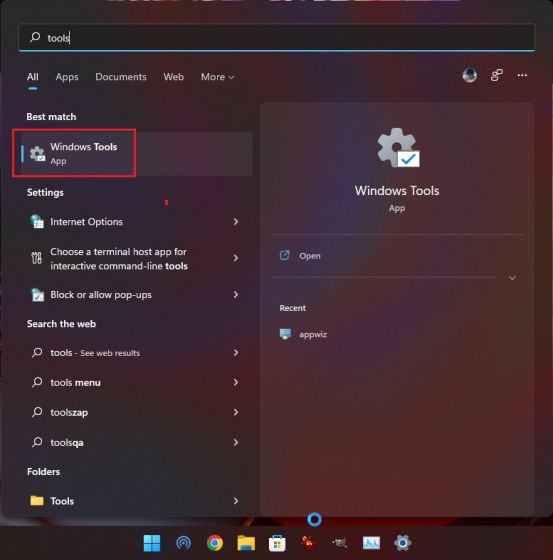 2. Then open the "Windows Memory Diagnostic" tool.
3. It will ask you to restart your PC to check for RAM issues on Windows 11. Click "Restart now".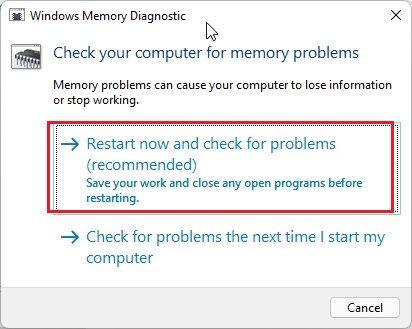 4. You will now enter the Windows Memory Diagnostic Tool screen, and it automatically start the standard testwhich checks all BASIC tests including INVC, MATS+, SCHCKR (cache enabled), LRAND, Stride6 (cache enabled), CHCKR3, etc.
5. If you want to perform a more advanced test for RAM called Extended, you can press the "F1" and choose the desired test. Use the "Tab" key to move between options and "F10" to apply changes.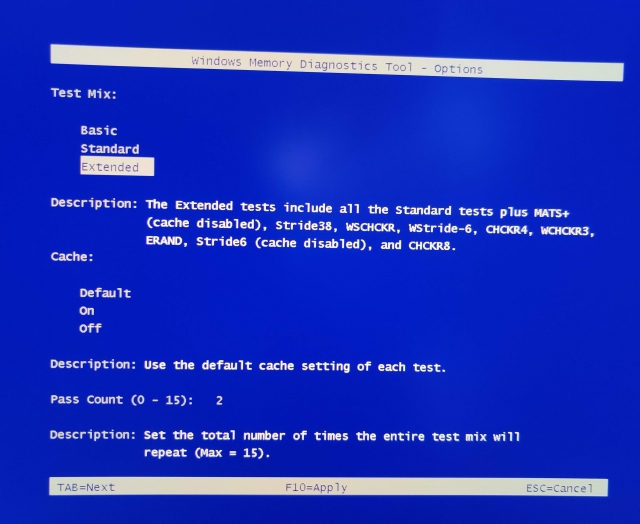 6. When the memory test is complete, your PC will restart automatically. Connect to your PC to view test results. Press the Windows key once and search for "Event Viewer". Now open it.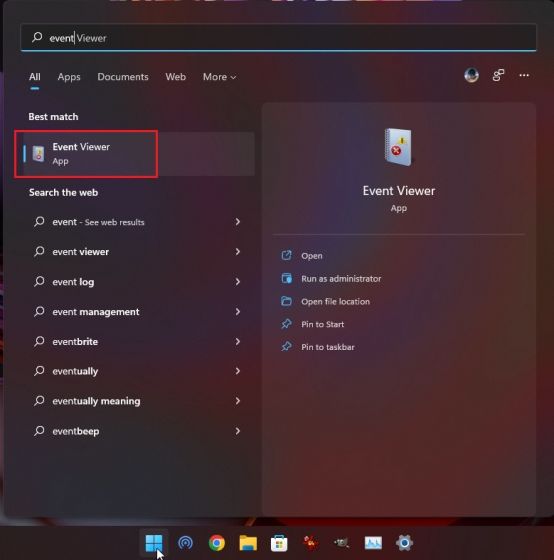 7. Here, expand "Windows Logs" and then open "System" logs. Now scroll down and search for "MemoryDiagnostics-Results".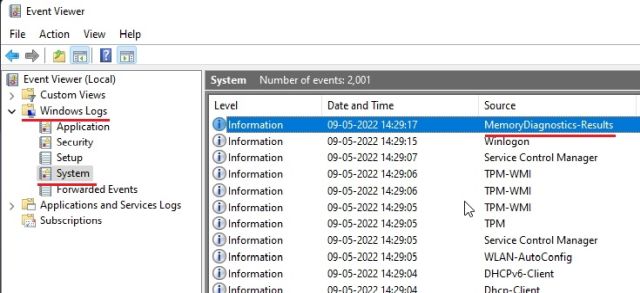 8. Open it and examine the result. If it says your memory has no errors, you should look for the root cause in other sources. And if the tool finds an error, you may need to replace ram.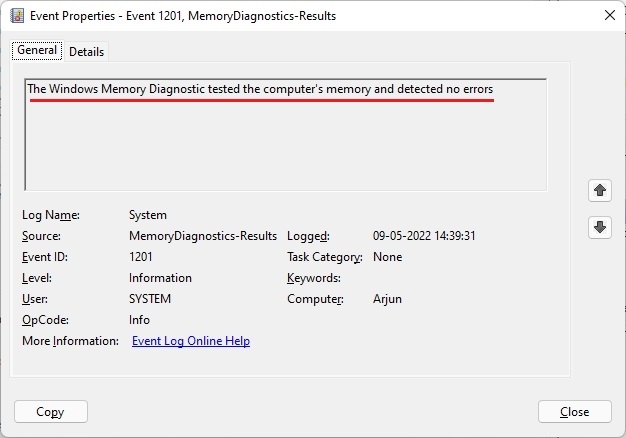 9. If you are not satisfied with the native Windows Memory Diagnostic Tool, go for MemTest86 app (Free), which is the number 1 candidate in our list of the best tools for stress testing RAM. It offers more than 13 algorithms and searches for all possible hardware errors in RAM.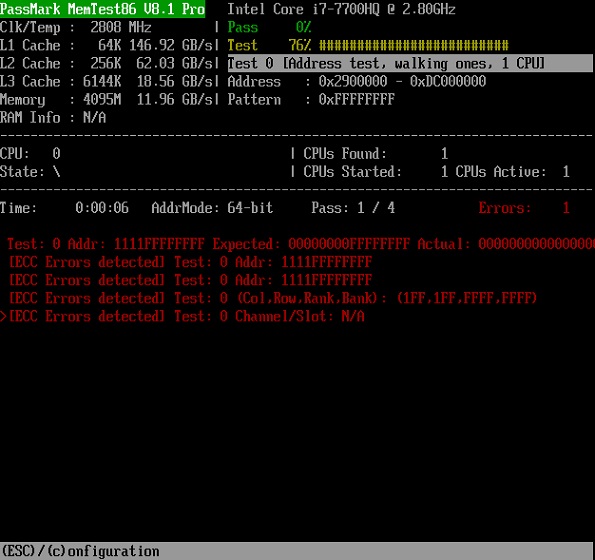 Immediately fix RAM issues on Windows 11
So, here are the ways to fix memory issues in Windows 11. If you are experiencing high RAM usage issue, it might be due to memory leak or background programs consuming unusual amount of RAM. RAM. We have included several solutions for this problem, so just follow the guide above for a proper solution. Anyway, it all comes from us. If you are facing high disk usage on Windows 11, follow our tutorial to fix the said problem. And to access God Mode on Windows 11, we have a handy guide in place for you. Finally, if you have any questions, let us know in the comments section below.