Backing up your messages and chats on WhatsApp is quite simple. All you have to do is choose the frequency of backups you want (daily/weekly) and that's it. WhatsApp automatically backs up your chats to iCloud from your iPhone, so they're always available in case you need to reset your iPhone or if you buy the new iPhone 14 later this year. However, a number of iPhone users have reported that their WhatsApp backup gets stuck on iPhone. If you're having the same problem, don't worry, it's a pretty easy problem to fix. So here are 10 ways to fix stuck WhatsApp backup on iPhone.
10 Solutions to Fix WhatsApp Backup Stuck on iPhone (2022)
There can be several reasons behind blocked WhatsApp backup. In this guide, we'll take a step-by-step approach, starting from the most common issues, to rarer issues that could prevent your WhatsApp chats from being backed up on your iPhone.
Although we recommend that you follow this guide in the order we mentioned, you can skip to whichever method you want to try first by using the table of contents below.
1. Check available iCloud storage
One of the most common reasons why WhatsApp backups get stuck on iPhone is insufficient iCloud storage. Apple offers a measly 5GB of free cloud storage, and even if you have an iCloud+ plan, it's a good idea to make sure there's enough space for your WhatsApp backups.
Go to the Settings app on your iPhone and press the Apple ID Banner.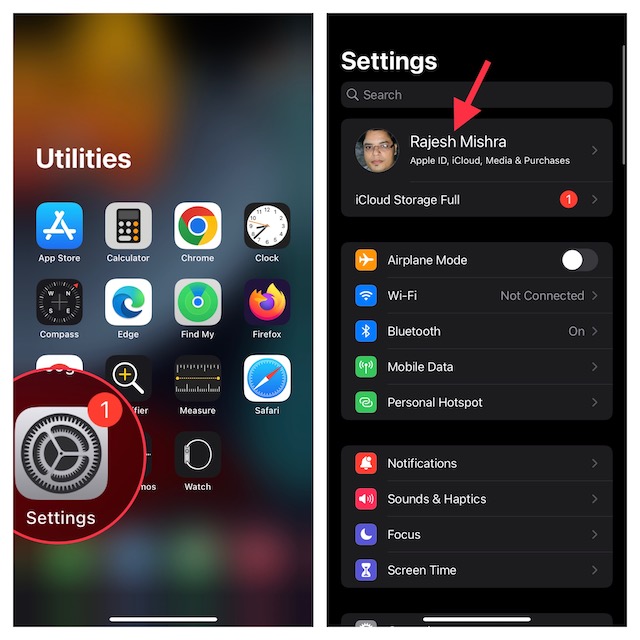 Then press iCloud. At the top of the screen, you should see how much iCloud storage is left for your account.
If you don't have enough storage available in iCloud, you can either delete items to free up space for your WhatsApp backup or buy more iCloud storage by upgrading your plan.
2. Force quit WhatsApp and try again
If there is enough storage available in iCloud and WhatsApp still won't back up your data, the next thing to try is a force stop. In many cases, force quitting an app can help fix random issues that may be interfering with the normal operation of the app.
On iPhone with Face ID: Swipe up from the home bar, then touch and hold in the middle of the screen. After that, swipe up on the app card to kill the app.
On iPhone with Touch ID: Double-tap the home button to bring up the app switcher. After that, swipe up on the app card to force stop WhatsApp.
Now turn on Airplane mode (bring up control center and tap the airplane mode icon) and wait for a few seconds. After that, turn off airplane mode, open WhatsApp and try backing up again. Hopefully this should have fixed the WhatsApp backup that was stuck earlier.
3. Turn Cellular Data/WiFi Off and On Again
Since WhatsApp backup requires a stable internet connection, make sure that a slow cellular or Wi-Fi connection does not prevent the backup. If you find that your internet connection is weak, toggle your cellular/Wi-Fi connection.
Navigate to the Settings app on your iPhone -> Mobile data/Wi-Fi then disable the toggle.
Now restart your iPhone. Once your device restarts, go to the Settings app, then turn on Cellular/Wi-Fi.
4. Enable Wi-Fi Assist
iOS comes with a feature called "WiFi Assist" which automatically starts using cellular data when your iPhone is not connected to Wi-Fi or the Wi-Fi network is poor. This ensures that things like video streaming and backup aren't hampered by a sloppy Wi-Fi network. Enabling WiFi assistance can therefore also ensure that your WhatsApp backups will not be interrupted in case WiFi connectivity is poor.
Open the Settings app -> Cellular/Mobile Data.
Now scroll down and then make sure the toggle next to Wi-Fi Support is on.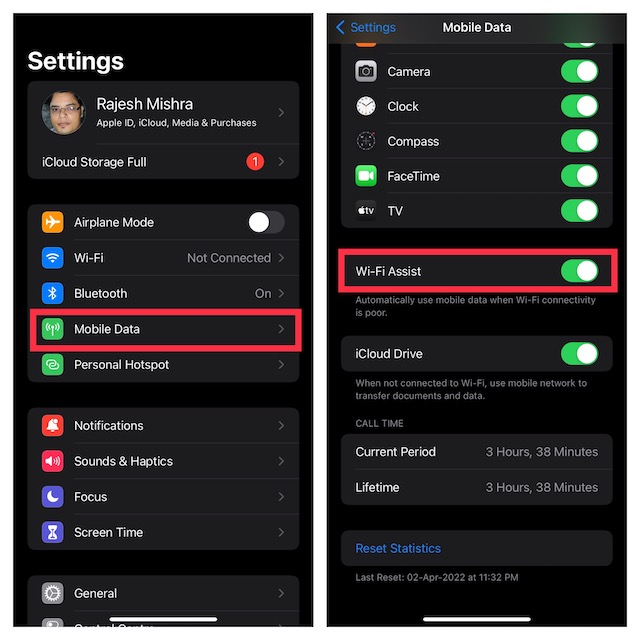 5. Disable iCloud Backup for WhatsApp and re-enable it
Many times, you can fix WhatsApp backup stuck on your iPhone by simply turning off WhatsApp's iCloud backup and turning it back on.
Go to Settings -> Your name on your iPhone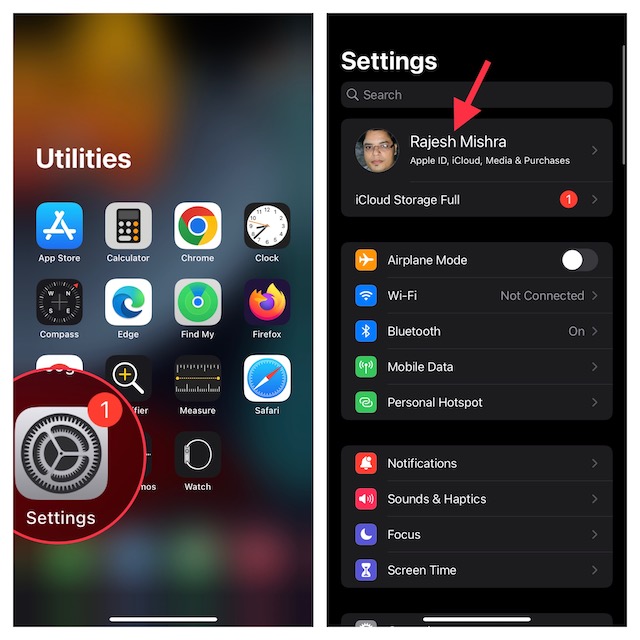 Now press iCloud. Then scroll down to find whatsapp then disable the toggle next to it.
Then restart your iPhone. Once your device has restarted, go to iCloud settings, then turn on the toggle next to WhatsApp.
Check if WhatsApp is able to back up your chats now. If WhatsApp backup is still stuck on your iPhone, read on for potential solutions.
6. Update WhatsApp
If it's been a while since you updated WhatsApp on your iPhone, chances are the problem is due to the outdated version of the app. Therefore, make sure to update the messaging app.
Launch it App store on your iPhone, then tap your profile in the upper right corner of the screen.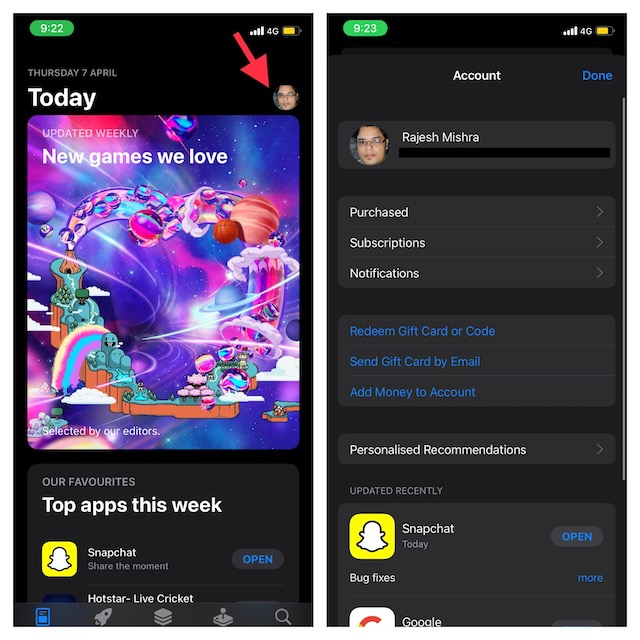 Now scroll down to find WhatsApp and then tap Update next to that. If the list of applications shows "Open" instead of "Update", it means that you are already using the latest version of WhatsApp on your iPhone.
7. Make sure iCloud is not facing any crashes
Make sure iCloud is not currently experiencing an outage. Open a web browser on your iPhone and go to Apple's System Status page, then make sure the circle to the left of iCloud Backup is green. If the circle turns orange, it means iCloud Backup is facing a technical issue. In this situation, you will have to wait for Apple to fix the problem.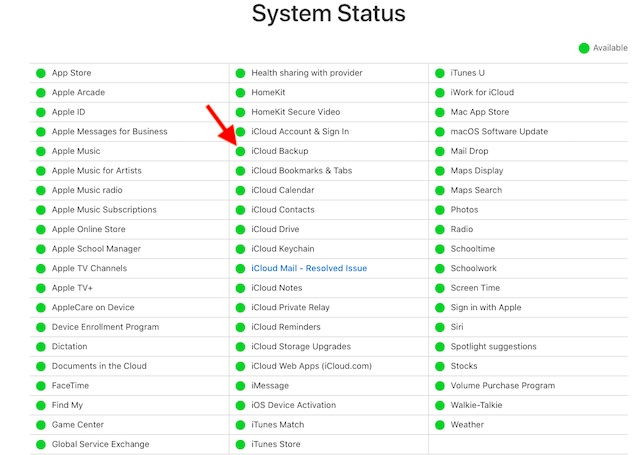 8. Delete Old iCloud Backups
If you are unable to free up enough iCloud space for a successful WhatsApp backup on your iPhone, you can delete old iCloud backups.
Head to the Settings app on your iPhone -> Apple ID banner -> iCloud.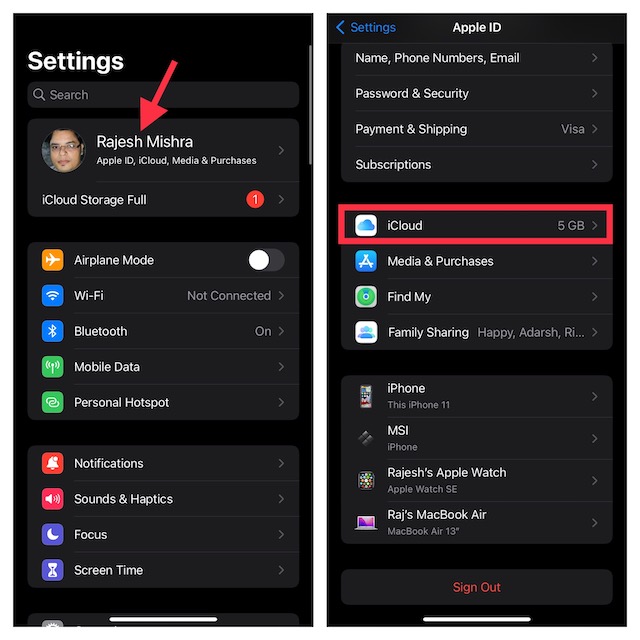 Then press Manage storage space and choose Backups.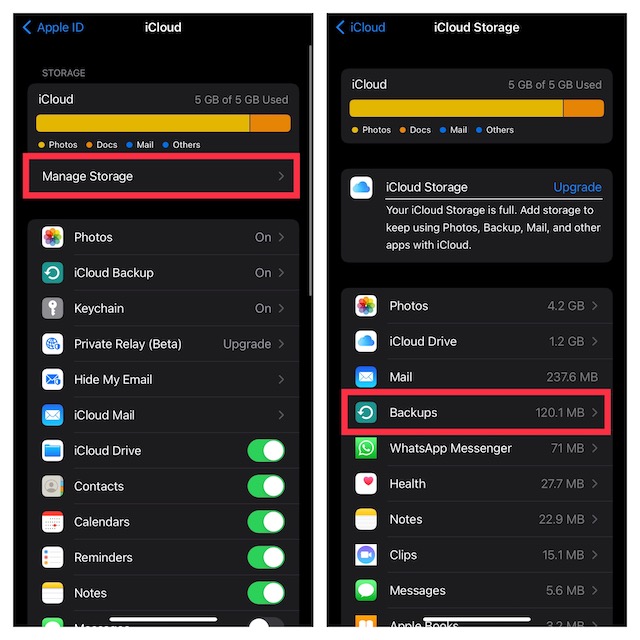 Next, select old backup you no longer need, then press Delete backup at the bottom of the screen. Be sure to type Disable and delete in the pop-up window to confirm.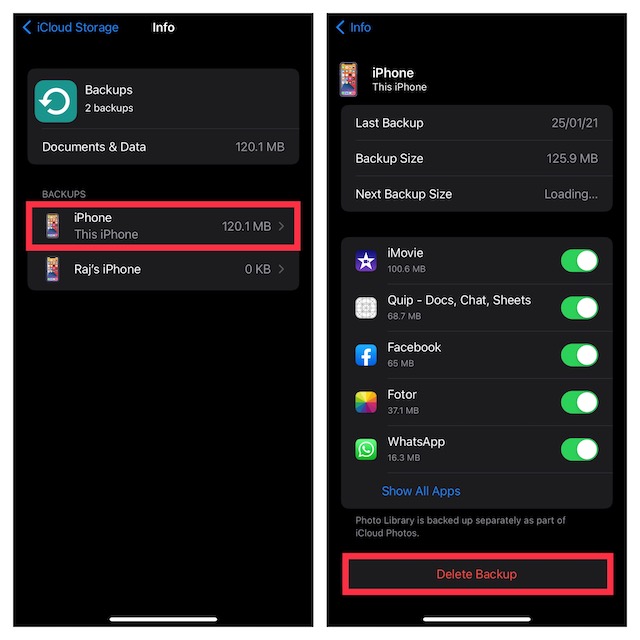 9. Reset Network Settings
If WhatsApp backup is still stuck, it's time to try resetting your network settings.
Head to the Settings app on your iPhone and choose General. After that scroll down and tap Transfer or Reset iPhone.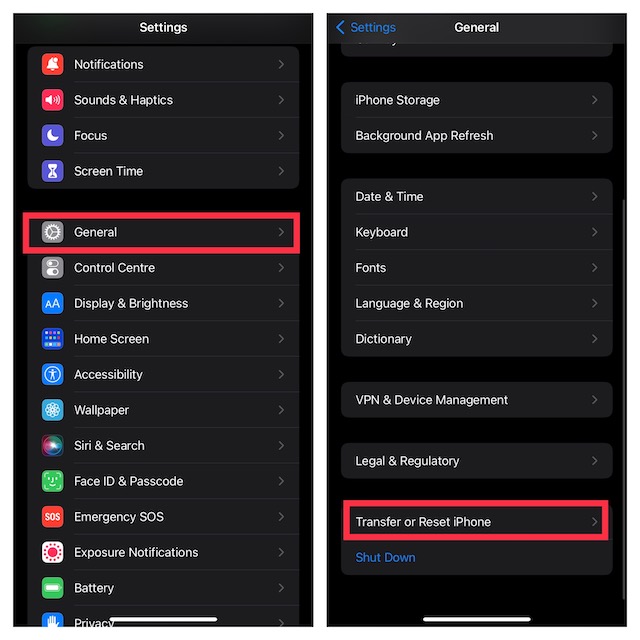 Then press Reset down and choose Reset network settings. If prompted, be sure to enter your Screen Time passcode. Finally, touch Reset network settings again in the pop-up window to confirm.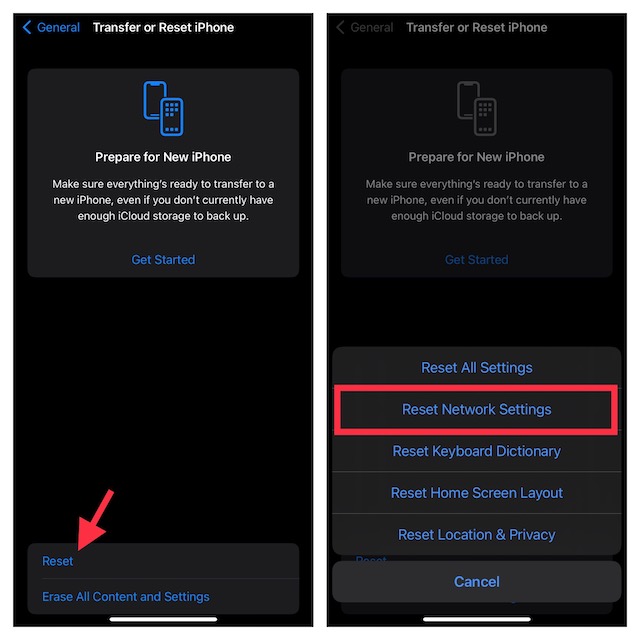 10. Update your iPhone
Is WhatsApp backup still stuck on your iPhone? The problem could also be with iOS itself, which is getting more buggy day by day. It's a good idea to check if there are any pending iOS updates on your iPhone, and if there are, you should install them immediately and hope they fix the problem.
Launch it Settings app on your iPhone and choose General.
After that press Software update then download and install the latest version of iOS.
Easily Fix Stuck WhatsApp Backup on Your iPhone
Well, these are all the ways you can try to fix a stuck WhatsApp backup on your iPhone. Hope you were able to repair your WhatsApp backup easily. That said, if you know of any other methods that can help fix WhatsApp backups on your iPhone, share them with us in the comments below and we'll look them over.