Microsoft has started testing Edge Secure Network, a new VPN-like security feature for its Edge browser. This new feature promises to provide a secure browsing experience, especially when connecting to public networks in a cafe, restaurant, airport or other public places. In this article, we have detailed what Edge Secure Network is and how you can try this free VPN service right away in Microsoft Edge.
Microsoft Edge Secure Network Explained (2022)
What is Microsoft Edge Secure Network?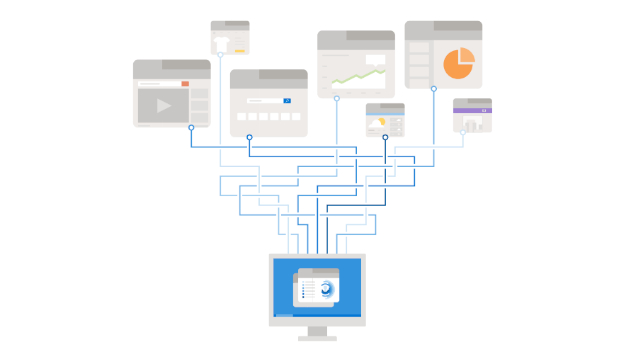 Microsoft's Edge Secure Network is a new security feature that lets you browse the web safely with the Edge browser. Built in partnership with Cloudflare, the feature masks your device's IP address, encrypts your data, and routes it through the Cloudflare server closest to you. Just like other popular browsers like Opera and Firefox, Microsoft offers a free VPN service built into its Edge browser.
Edge Secure Network is currently available on Edge Canary build 104 and later. As part of the preview, Microsoft offers 1 GB free monthly quota for users to test the functionality. We might expect more new plans with higher data caps, perhaps locked behind a subscription when the feature hits Edge's stable release.
Also, the browser requires you to sign in to your Microsoft account to access the VPN feature. If you want to try out the feature before it rolls out to the Stable Channel, you can follow the steps below.
Enable Microsoft Edge Secure Network on Edge
Before we get to the steps, it's worth mentioning that while we're using Edge Canary to present the steps, they will essentially remain the same in the stable release as well. So let's see how to enable this feature in your Edge browser:
1. First, go to this link and download Microsoft Edge Canary on your computer. Open Edge Canary and click the horizontal three-dot icon in the upper right corner. When the list of options appears, choose "Settings" at the bottom to view Edge settings.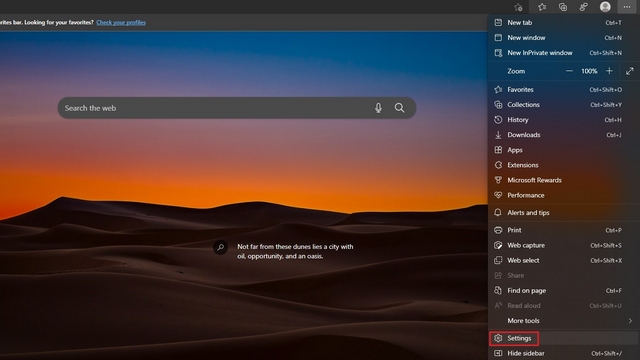 2. Next, switch to the "Appearance" tab on the left sidebar and activate the "Secure network (VPN)" button to access the Cloudflare-based VPN service on your Edge browser.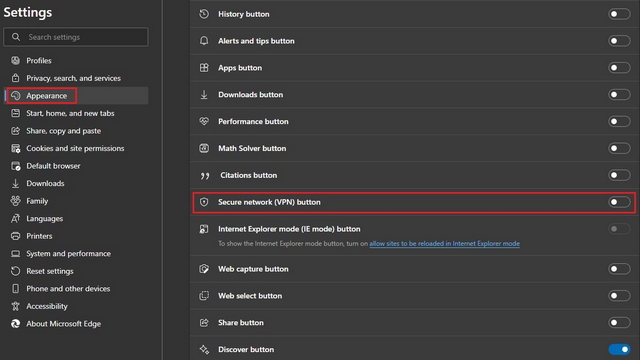 3. You will now notice that the secure network icon appears in the toolbar next to the address bar and in the settings context menu. Clicking on the icon allows you enable or disable Edge Secure Network.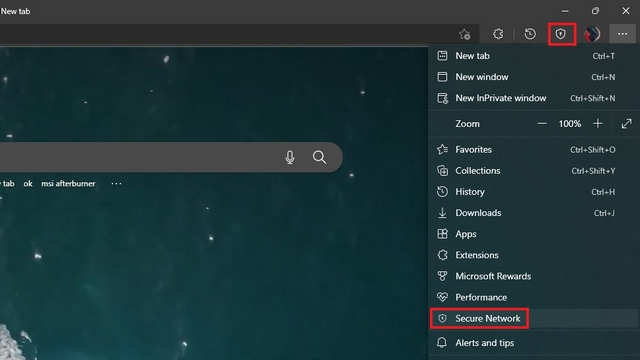 How to Use Edge Secure Network in Microsoft Edge Browser
1. After clicking on the secure network icon in the toolbar, click the "Try Now" button to test the Edge secure network. As mentioned earlier, you'll need to sign in to your Microsoft account to try out the secure network right now.
2. And that's it! You have enabled Secure Network Protection on your Edge browser. There is a progress bar in the Edge Secure Network context menu to show how much data you have used from the 1GB free monthly quota. If you change your mind, you can turn off the "Secure network protection" toggle to disable Edge's secure network.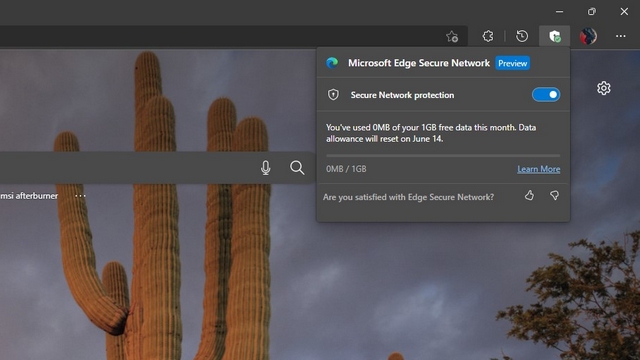 3. As mentioned above, Edge Secure Network hides your IP network. For example, here is a comparison of my IP location before and after I enabled the Edge secure network on my browser. Unlike the original result where my location was almost accurate, the Edge secure network feature hid my IP address and instead displayed an approximate location.
Try Edge Secure Network on Microsoft Edge
Edge's Secure Network is a nifty security feature you can use when using public Wi-Fi networks. That said, the 1GB monthly quota is limited, and we hope Microsoft offers more bandwidth just in time for the stable release. That said, don't consider this feature as an alternative to a traditional VPN, as a VPN offers more privacy features, including the ability to choose your own virtual location. If you're looking for new VPNs, be sure to check out our lists of the best VPNs for Windows and the best VPNs for Android and iOS.