If you have a newer iPhone with a notch, you know that the battery indicator in the status bar doesn't show how much battery is left. For a very long time, you had to swipe down to get into control center and check the battery percentage on your iPhone. This is not the case with older iPhones with a Home button, like the iPhone 8 and iPhone SE, as they include an option to show the battery percentage in the status bar. Well, that changes with the release of iOS 16, as Apple has finally introduced the option to show battery percentage on your latest iPhones.
Show Battery Percentage on iPhone (2022)
In this article, we'll look at four different ways to check the battery percentage on iPhones with and without a Face ID notch. We'll not only be looking at the new iOS 16 method to show the remaining battery percentage inside the icon on Face ID models, but we'll also be looking at all the other viable methods to show the battery percentage on iPhones also running iOS 15.
1. Show battery percentage in status bar
On iPhones with Face ID Notch
To note: With iOS 16 Developer Beta 5, Apple began allowing users to see the battery percentage in the status bar on iPhones with a Face ID notch. We tested the feature on iOS 16 developer beta 8 for this article, and it should be available in the iOS16 stable construction.
If you haven't updated to iOS 16 from iOS 15 on your iPhone yet, skip to the next section to learn how to check the battery percentage of your Face ID enabled iPhone. Otherwise, follow the steps below on how to enable battery percentage on iPhone X or newer models with Face ID:
Here's how to enable or disable the battery percentage option on your iPhone in iOS 16:
First, open the Settings app, scroll down and go to the "Battery" section.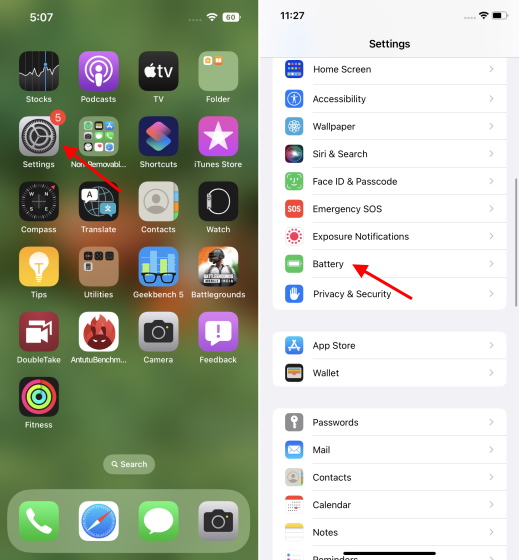 Under the "Battery" settings, you will now see a "Battery percentage" option at the top. Enable this feature and you will start seeing the battery percentage in the top right battery icon.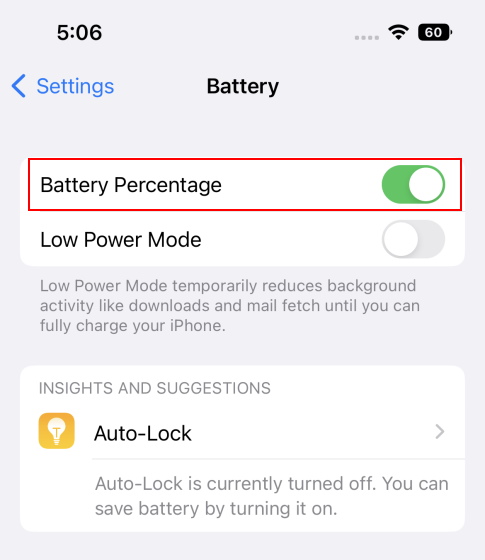 On iPhones with a home button
This feature has been available on iPhone models with Touch ID for a very long time and only found its way to iPhones with a notch with iOS 16. The only difference between the two implementations is that the battery percentage is displayed outside of the battery icon (left) on iPhone SE and older models.
You need to follow the same steps as above to enable or disable battery percentage option on iPhone SE 2022, iPhone 8 and iPhone 8 Plus running iOS 16.
2. View Battery Percentage in Control Center
If you have an iPhone running iOS 15, the closest alternative to seeing the battery percentage in the status bar is Control Center. It also works on iOS 16 when you open Control Center. So how does it work? It's simple.
Just swipe down from the top right corner of the screen to open the control center. There you go see the percentage next to the battery icon.
3. Use iPhone Battery Status Widget
Now, if you don't have iOS 16 installed or don't want to keep opening Control Center to see the remaining battery on your iPhone, you can also use this simple workaround. You can place the battery widget on your home screen to easily keep an eye on the percentage. Here's how:
First, long press anywhere on the home screen and tap the "plus" icon top left once all the icons start flickering. Next, tap on "Batteries" to view the available widgets.
Here you can choose between a 2 x 2 square widget or a 2 x 4 rectangular widget, which also displays the battery percentage on all your accessories except your iPhone. We selected the square widget for this article, and now you can see the remaining battery on your iPhone home screen at any time.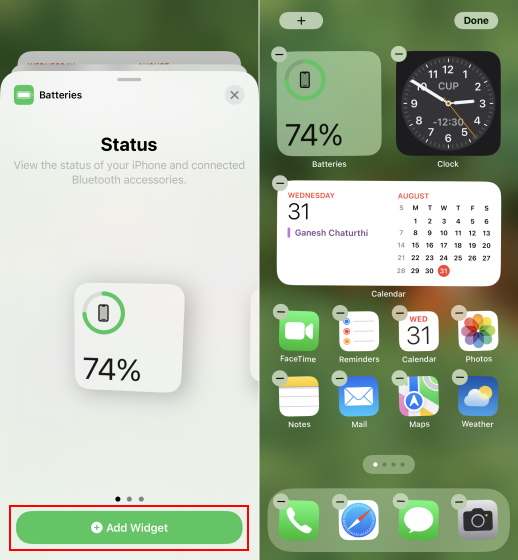 4. Ask Siri for battery level on iPhone
Finally, if you are someone who likes to use Siri, you can ask the voice assistant to know the battery percentage of your iPhone. Just long press the power button and ask Siri – "How much battery do I have left? or "What's my battery percentage?". You'll hear Siri say it out loud, and you'll see how much battery is left on your iPhone screen.
Show battery percentage on all iPhone models
After making you wait over five years, Apple has finally made it possible to see how much battery is left on your notched iPhones without having to access Control Center or Siri. The "battery percentage" option is now widely available on all iPhones with or without a notch. This means that you can easily track how much juice is left in your iPhone. However, as you can see from the screenshots above, the implementation is flawed as the battery percentage value is always displayed in a full battery icon. The battery icon no longer shows that the battery is drained when you enable this feature, which is just weird.
Now, once you have installed iOS 16 on your device, will you enable battery percentage feature on your Face ID based iPhone? Let us know in the comments below.