If you're anything like me, chances are that more often than not your Mac's desktop looks like a jumble of open apps and windows. Although Mission Control is useful in such cases, it does not help with organization. This is where macOS 13 Ventura's new "Stage Manager" feature comes in. This feature can neatly organize your windows for you and you can even create application groups based on the tasks you perform. So if you want to get started with Stage Manager to streamline your desktop, here's how to enable and use Stage Manager on macOS Ventura.
Use Stage Manager on Mac (2022)
How to activate the scene manager
Activating Stage Manager is quite simple. Just follow the steps below and you'll be up and running in no time.
Open "Control Center" from your Mac's menu bar.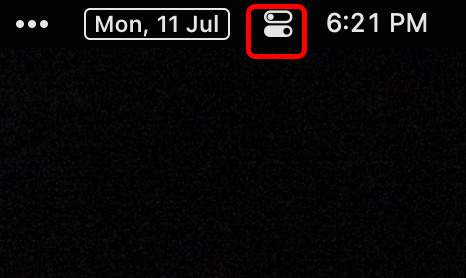 Here, click on the 'Stage Manager' icon to activate Stage Manager on your Mac.
That's all, macOS Ventura will now automatically stack your open windows and you can navigate through them easily. You can click on different apps in the Stage Manager sidebar to browse them. Alternatively, you can use the Command + Tab shortcut to browse apps.
Group and Floorless Applications in Stage Manager
How to group apps in Stage Manager
By default, Stage Manager separates each open application on your desktop. However, what if you use two (or more) apps together? For example, what if you use Microsoft Edge, while keeping Slack active to keep track of incoming messages? Luckily, it's very easy to group apps in Stage Manager. Here's how to do just that.
With the Stage Manager feature enabled, open one of the windows you want to group with another. For example, I keep Microsoft Edge on top, as you can see in the screenshot below.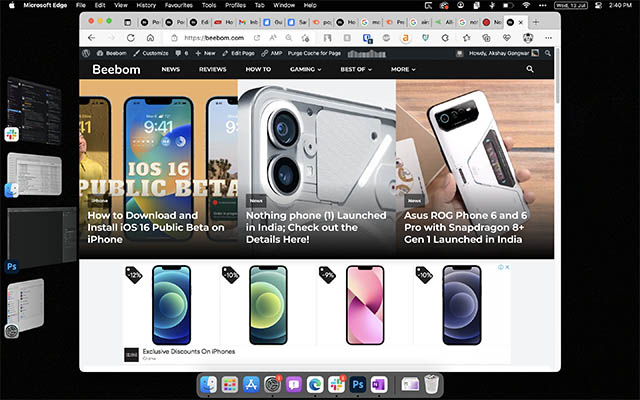 Now suppose I want to integrate the Settings app into the same group. Just drag the settings app from the scene manager and drop it on the desktop. That's it! The two applications are now combined.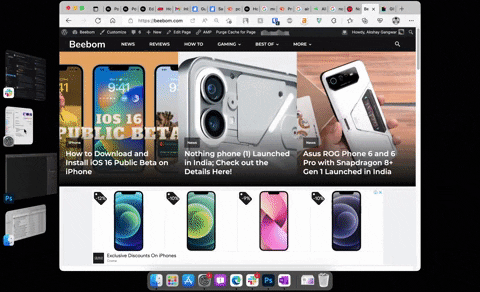 To note: You can do this with two separate apps, or two windows of the same app, etc., depending on your workflow.
Pro Tip: If you have grouped multiple apps or windows, you can cycle through them using the tilde (~) command.
How to unlink apps
If you've grouped apps or windows and then want to ungroup them, it's just as easy.
Open the group of apps (or windows) you want to separate.
Now drag the app you want to unlink and drop it into the scene manager as shown in the GIF below.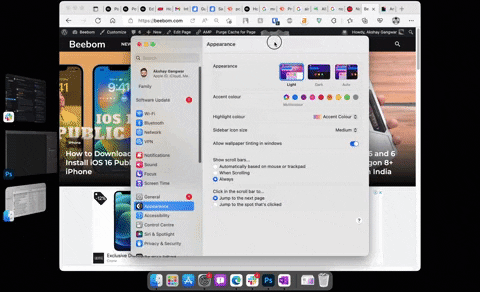 If you have multiple apps grouped together, you can repeat the process to ungroup as many windows or apps as you want.
Show desktop items when Stage Manager is enabled on Mac
Using Stage Manager automatically hides all icons on your desktop. This ensures that you get a clean workspace to focus on the task at hand without worrying about clutter. However, if you need to access something from your desktop, you can just click anywhere on the blank area of ​​the screen. This will hide all open windows and make desktop icons visible.
Similarly, you can click on any blank space on your screen to hide desktop icons and get back to work. Or, you can open one of the apps from the Stage Manager tiles to hide desktop icons on your Mac.
Disable (Disable) Stage Manager
Stage Manager, while useful, isn't everyone's cup of tea. If you don't find the new window management feature useful, or just want to temporarily disable it, you can do so by following the steps below.
Open Control Center on your Mac and click the Stage Manager icon.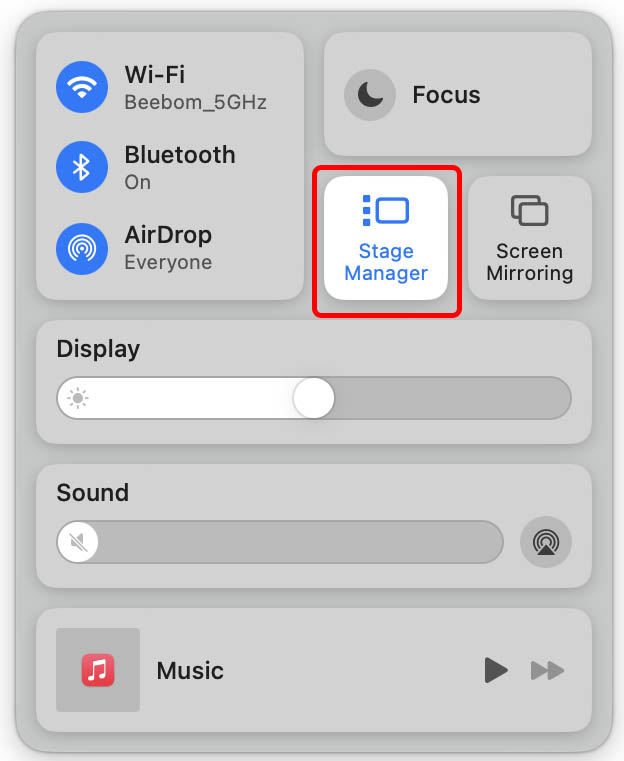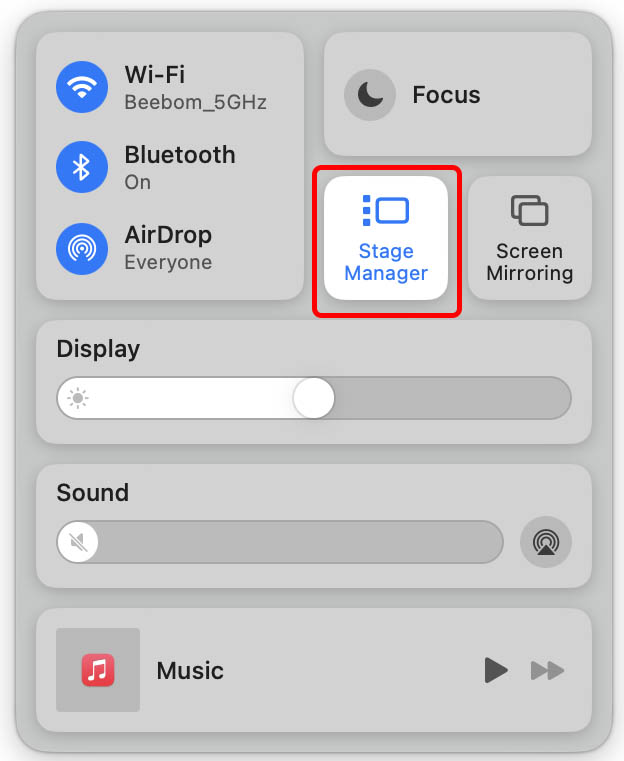 Now turn off the toggle next to "Stage Manager" to disable Stage Manager on your Mac.

Frequently asked questions about Stage Manager on Mac
Which Macs support Stage Manager?
Stage Manager works with all Mac devices compatible with (and updated to) macOS 13 Ventura. You can check the list of devices supported by macOS Ventura from the linked article.
Can you resize and rearrange Stage Manager tiles?
No, it is not possible to resize and/or rearrange Stage Manager tiles.
How do I switch between windows of the same application in Stage Manager?
With the keyboard shortcut command + tilde (~)you can quickly switch between different windows of the same application.
Can you quit an application via the Stage Manager tile?
No. There is no way to quit an application via the Stage Manager tile.
Stage Manager makes window management easy in macOS Ventura
The new Stage Manager feature simplifies managing multiple open windows on your Mac. Now that you know how to enable the feature on macOS 13 Ventura, go ahead and give it a try. This may be what you need. And if not, you can always turn it off and go back to using your Mac like you always have. Either way, let us know your thoughts on Stage Manager and its usefulness in the comment below.