If you've ever found yourself installing apps like Photoshop to remove the background from photos, iOS 16 brings you some really good news. With iOS 16, you can easily remove background from images right on your iPhone. Whether it's a portrait of yourself or a photo of your dog, you can now easily convert the image into a transparent background image and use it as a sticker (among other things) . So, here is how to remove background from photos on iPhone with iOS 16.
Remove Background from Photos on iPhone (2022)
There are several ways to remove the background from your pictures on iPhone. We'll cover all of these methods, and you can use the one that best suits your needs. As always, you can use the table of contents below to jump to any section that intrigues you.
iPhone models that support iOS 16 background removal feature
If you're wondering if your iPhone supports the new background removal feature, here's what Apple says. According to the company, the feature uses "Advanced machine learning and image analysis functionality". Essentially, Apple only made the feature available on iPhones with an A12 Bionic processor or later. Here are all the iPhones that support the background removal feature:
iPhone 13
iPhone 13 mini
iPhone 13 Pro
iPhone 13 Pro Max
iPhone 12
iPhone 12 mini
iPhone 12 Pro
iPhone 12 Pro Max
iPhone 11
iPhone 11 Pro
iPhone 11 Pro Max
iPhone XS
iPhone XS Max
iPhone XR
iPhone SE 2nd generation and 3rd generation
Isolate Subjects from Background on iPhone
There are four quick ways to isolate subjects from the background. It's worth pointing out that this background removal feature works on any image where the subject is clearly defined. So whether you want to isolate a person, a pet or an object from photos, you can use this method.
Method 1: Remove background from pictures in Photos app
The Photos app is probably where you browse your photos most often. And if you want to remove the background from an image, you can now do it right here.
In the Photos app, open the image whose background you want to remove. For this example, I'm using an image of myself. Now tap and hold on the subject until a white glow appears around the image as shown in the GIF below.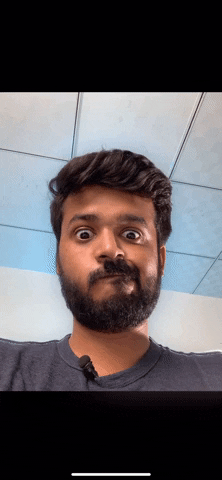 You can now drag the subject and it will be removed from the background and you can drag and drop it just about anywhere. Like, in iMessage (or WhatsApp, for that matter).
Alternatively, once the white glow begins to appear, you can stop holding the image and you will see a context menu with the following options: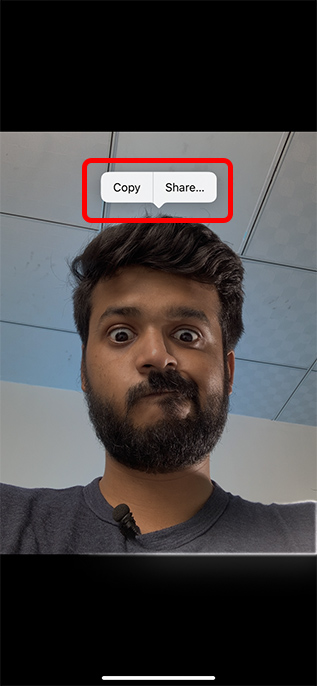 You can use "Copy" to copy the image without the background, then you can paste it wherever you want. Or, you can tap "Share" and directly share the "sticker".
Method 2: Remove background from web images (Safari only)
On the other hand, if you want to create a sticker from an image you find on the web, or if you want to remove the background from a web image, you can do it directly from Safari. You don't need to upload the image and use the Photos app method mentioned above. Here's how you can remove backgrounds from images on the web using Safari in iOS 16.
Find the image whose background you want to remove in Safari. Now long press on the image and you will see a popup menu.
Here, tap "Copy topic" to remove the background and copy the topic to your clipboard. You can now paste the copied image (without the background) wherever you want to use it.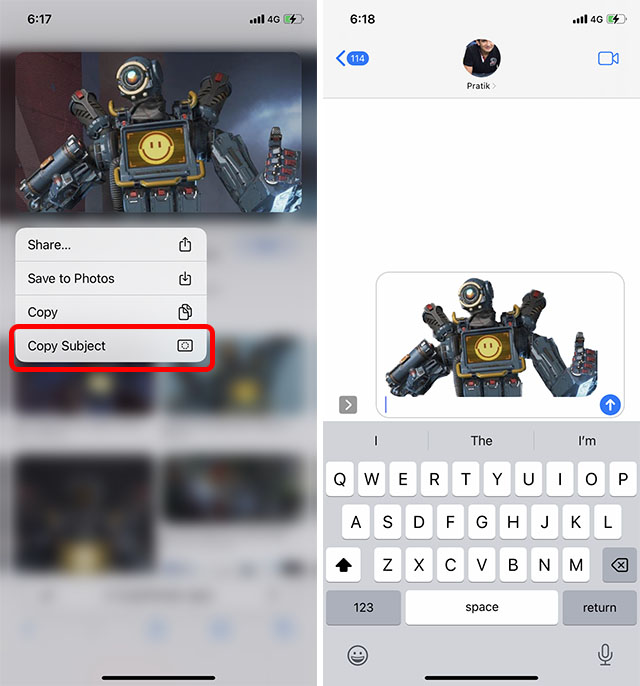 Method 3: Remove background from images using Files app
You can also remove the background from images saved in the Files app on your iPhone without having to export them to the Photos app.
Open the Files app and navigate to the image whose background you want to remove.
Long-press the image thumbnail in the Files app and tap "Quick Actions". Now tap on "Remove background".
Voila, the Files app will remove the background from the image and
The Apple Files app also offers an easy way to remove subjects from images.
1. Run it Files app on your iPhone, then navigate to an image.
2. Now, long press on image and choose Quick Actions. After that press Remove background in the context menu.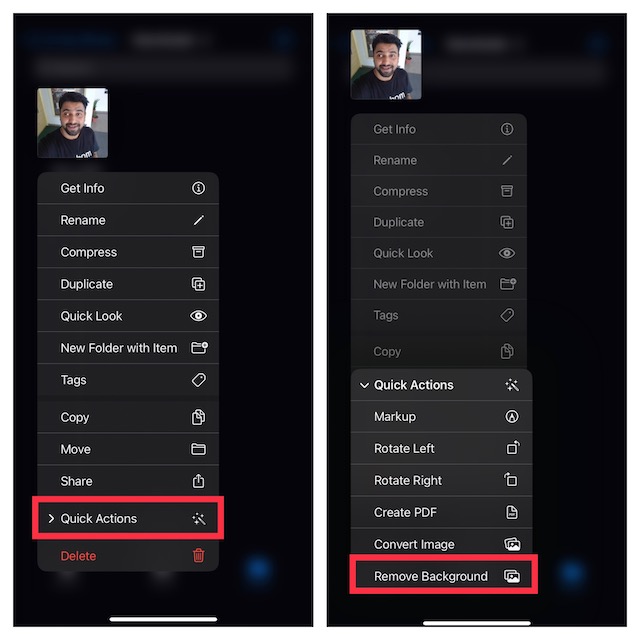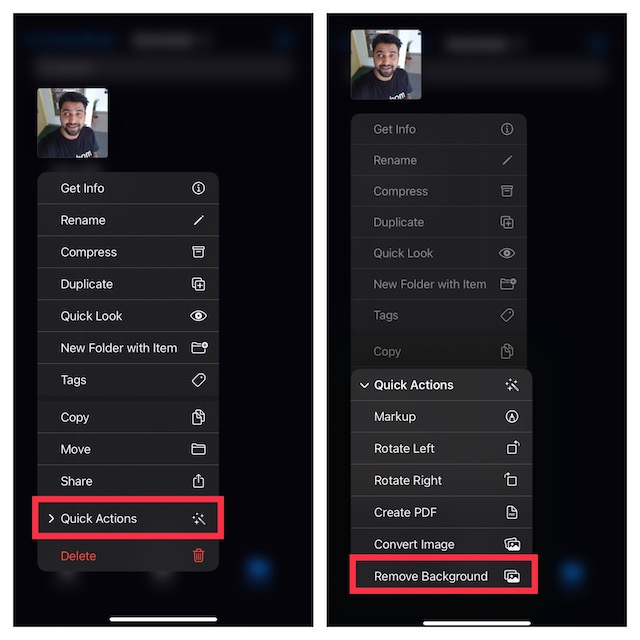 The Files app will instantly remove the background from the image and save it to the same location.
To note: The "Remove Background" option in the Files app also showed up on our iPhone X, even though the feature is not supported on the phone. That said, it looks like Apple might have also made the iPhone X compatible with the "Remove Background" feature.
What apps support the iOS 16 background removal tool?
iOS 16's Background Removal feature, which is kind of an extension of the Visual Search feature launched with iOS 15, is tightly integrated with almost all existing system apps. Here are some of the apps we've tested where the feature works like a charm:
Pictures
Safari
posts
Mail
Files
Remarks
How to Remove Background from Pictures on Unsupported iPhone Models
Since Apple is blocking many iPhones from getting the new "remove background" feature with iOS 16, if you have an older iPhone, you'll have to resort to third-party options to get similar functionality.
The tool we recommend for removing the background from images is the remove.bg (visit) website. It's a completely online tool where you can upload an image (or even click on one from your iPhone's camera). The website will then remove the background for you and you can download the image without the background.
If you're looking for other options you can use to remove backgrounds from your images, you should check out our article on removing backgrounds from images without Photoshop.
Easily Remove Backgrounds From Pictures In iOS 16
Well, this is how you can remove background and isolate subjects from your images on iOS 16. This new feature comes in really handy when you need to quickly extract a subject from an image, although in my case , it's mainly because I'm sharing it as a sticker. However, what use cases do you see for this feature? And how often do you need to isolate the subject in your iPhone photos? Share your thoughts with us in the comments below.