It's an open secret that Netflix has been losing subscribers over the past two years. If you are one of those users looking for a new Netflix alternative, you must have already canceled your Netflix subscription. However, canceling your subscription does not immediately delete your Netflix account. In this article, we have explained how you can request immediate deletion of your Netflix account when you cancel the subscription.
Permanently Delete Netflix Account (2022)
What happens when you cancel your Netflix account?
After canceling your Netflix subscription, Netflix keeps your account for 10 months. The company takes this approach to make it easier for users to access their profiles, favorites, viewing preferences, viewing history, and more. if they change their mind and want to sign up for Netflix again. However, you have the possibility to request the early deletion of your account.
To delete your Netflix account right after canceling your subscription, you will need to send the company an account deletion email. We have detailed how to do this in the next section.
Easiest Method to Delete your Netflix Account
To request account deletion before the 10-month waiting period, you must email privacy@netflix.com from the email address linked to your Netflix account.
If you request deletion of your account after canceling the subscription before your current billing period expires, Netflix will delete the account at the end of the default billing cycle. However, you also have the option of requesting the immediate deletion of the account before the end of the billing period.
Sample email to delete a Netflix account
We've added a sample email you can use to quickly request account deletion. Depending on your needs, you can edit the template before sending the account deletion email. As we mentioned above, sending this mail from the same email address associated with your Netflix account is important.
You don't need to mention your Netflix related email account in the subject but instead send the account deletion email using the same. That said, here is the email format you should use:
Dear Netflix team,

I have canceled my Netflix subscription on <date> and have decided not to use Netflix anymore. Hence, I would like to request you to immediately delete my account from your database along with all the data associated to it ahead of the 10-month cooldown period. 
Thank you.

Regards,
<your name>
Don't want to delete Netflix? Cancel Netflix subscription instead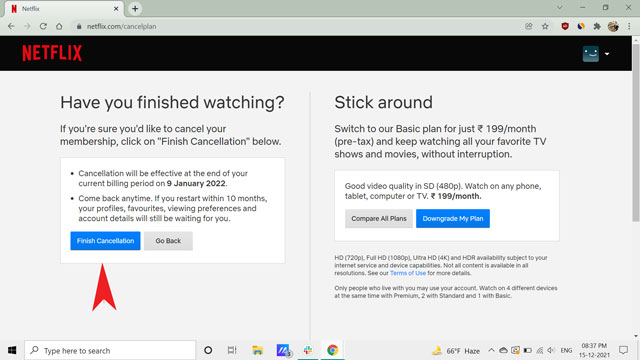 If you don't want to manually delete your Netflix account, you can choose to cancel your Netflix subscription and wait 10 months for the account to be finally deleted. To cancel your Netflix subscription, go to Account -> Cancel Membership -> Complete Cancellation. You can find detailed instructions for canceling your Netflix subscription in our linked guide.
Get rid of your Netflix account
So here is. This is how you can permanently delete your Netflix account without having to wait 10 months. While Netflix's default 10-month account retention policy works well for most people, it's good to have an option to manually trigger deletion sooner than that. If you're still on the fence when it comes to canceling your subscription, we recommend checking out the best Netflix movies and the best Netflix shows before you pull the trigger. That said, what is the reason you deactivate your Netflix account? Let us know in the comments below.