Even if you're good at typing, I think you'd agree with me when I say that common typos and grammar mistakes happen. They're not always easy to avoid, especially when we're in a rush to get back to scrolling on apps like TikTok. This is why most of us wish we had an edit button in messaging and social media apps to change the text if we make a mistake. Considering this need, Apple now allows its users to edit iMessage on iPhone, iPad and Mac. If you are an iMessage user, chances are you want to understand how to use this handy feature. So let's see how you can edit text messages on your iPhone in this guide.
Edit iMessages on iPhone, iPad and Mac (2022)
Before going through the steps, it would be better to know how iMessage works and know the limitations.
Things to remember before editing iMessages
First, the ability to edit previously sent messages was introduced with iOS 16, iPadOS 16, and macOS Ventura on all supported devices. And there are some important things you need to know before using this nifty feature in iMessage. These are:
To use this feature, not only the sender but also the recipient must be running the latest version of iOS, iPadOS, or macOS on their devices.
If the recipient is still using iOS 15 or earlier versions of the software (iPadOS 15 or earlier, macOS 12 or earlier), they will continue to see the original message and not the edited version. So yes, any changes you make to messages after installing the iOS 16 developer beta will not be reflected for your friends on the stable version of iOS 15.
A major limitation of this feature is that Apple only allows you to edit iMessages up to 15 minutes after the message was sent. You won't see the edit option if you try to edit posts that are older than 15 minutes.
You can edit your message as many times as you want within the time limit. To signify that the sender has edited the original text message, both sender and recipient will see an "Edited" tag appear next to "Delivered" below the message in the conversation thread.
How to Edit Sent Messages on iPhone and iPad
1. Run it Messaging app on your iPhone or iPad and open a conversation thread.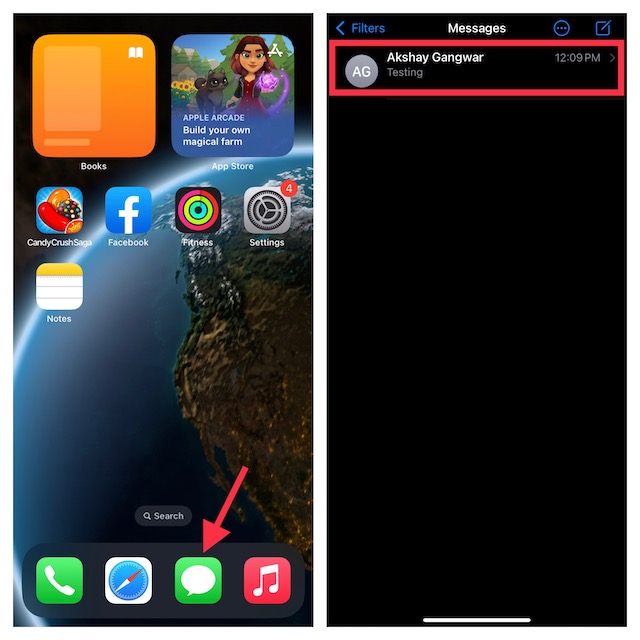 2. Now find the recently sent message that you want to edit. Remember that you only have 15 minutes to correct your mistake. So, long press on the message and choose "Edit" in the context menu.
3. Now you can make the desired changes to the text. When you're done editing the message, tap the "blue tick" to confirm and save changes.
4. Now the modified text is displayed to the recipient with the "Edited" below the message. And no, iMessage does not save message editing history, so your old message is gone for good.
How to Edit Sent Messages on Mac
The steps to edit messages on your MacBook or other Mac devices are quite similar to the process on your iPhone. Here's how it works:
1. Open the Messaging app on your Mac and go to a conversation thread.
2. Right click on the post you want to edit and choose the "Editin the context menu. Alternatively, you can "Ctrl + left click" on the message to see the context menu.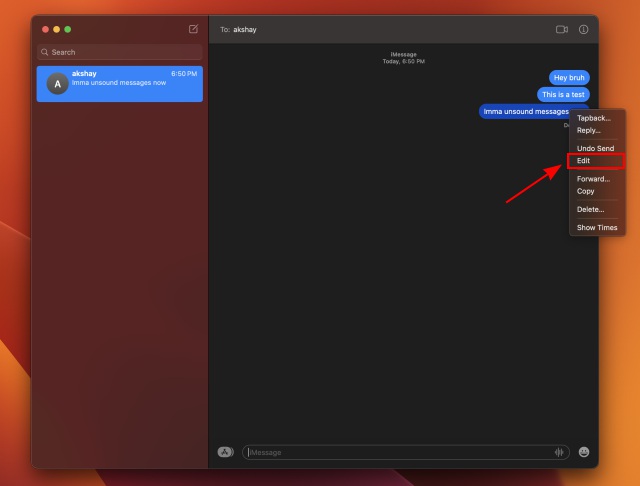 3. Now make the necessary changes to your post and tap the blue tick to confirm.
Edit text messages on iOS, iPadOS, and macOS
In my testing, I found the message editing feature on iPhone and Mac easy to use. So yes, it will find a place in our best iMessage tips and tricks roundup. However, one small change I would like to see is a slightly longer duration for editing posts, around 30 minutes. And to further enhance the iMessaging experience, the ability to have self-destructing messages like WhatsApp would be a useful addition. This would not only help clear the clutter from time to time, but also improve user privacy. Coming back to the feature at your fingertips, what do you think of the ability to edit messages on iPhone and Mac? Let us know your opinion in the comments below.