There are plenty of iPhone games out there, and while the big names are usually quite fun to play, if you've ever tried free games like Crowd City or Helix Jump on your iPhone, you must have noticed the large number of ads that ruin your experience. Now ads in free games are not bad because they allow developers to earn income. However, some games over-advertise out of greed, and that's where you might be thinking of iPhone ad blockers. Well, luckily there is a very simple way to do this. Here's how to block ads in iPhone games.
Avoid ads in games on iPhone (2022)
Although Apple does not offer a built-in ad blocker to allow you to block ads across your entire device, there are several ways to control ads and popups. As there are both free and paid methods, you can choose the preferred options according to your needs.
Use Adguard DNS to Block Ads in iOS Games
The easiest way to block ads in iPhone games is to use Adguard DNS to route your internet traffic. This DNS is designed with the purpose of blocking ads, so it can block ads in just about any game. I tested Adguard DNS with free games like Crowd City, Helix Jump and others which usually show a plot announcements. Adguard DNS completely blocks all ads in games like these. Here's how to set it up.
To note: We tested this method on iOS 15 and iOS 16, and it works perfectly fine. If you have installed iOS 16 on your iPhone, you can reliably use this method to block ads in your games.
On your iPhone, open Safari and go to the Adguard DNS public DNS website (visit). Here, click on 'Method 2'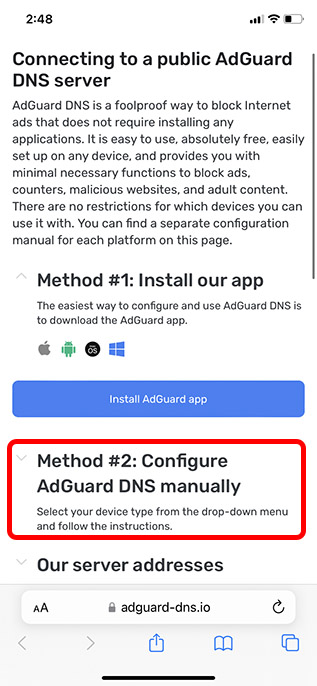 Click on 'iOS' to expand the iOS steps. With the 'Default Server' selected, click 'Download Profile'.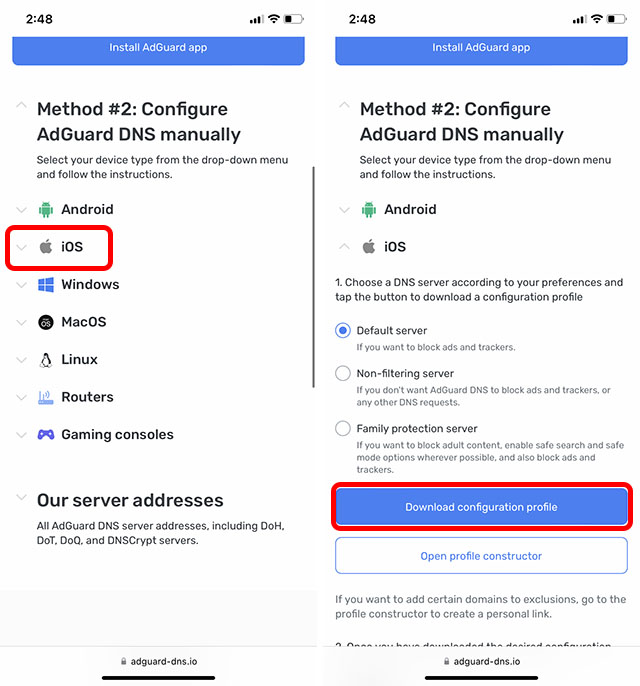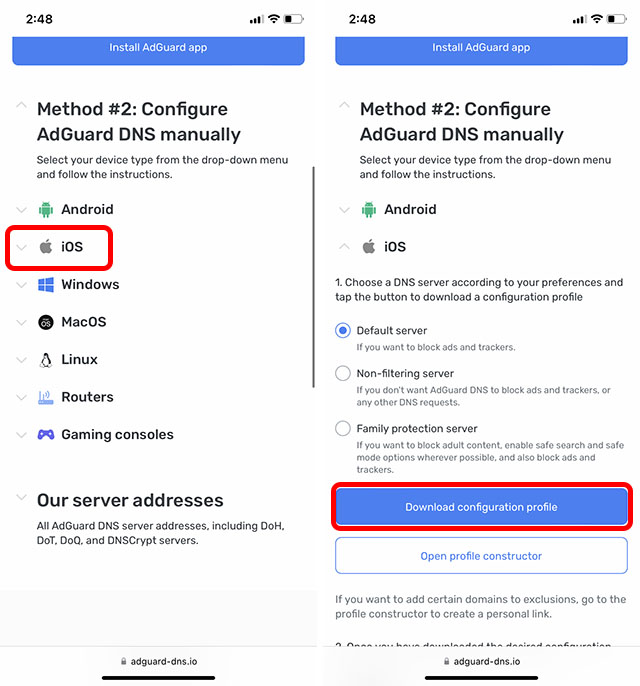 Once the profile is downloaded, open Settings and tap on the banner that says "Profile downloaded". Tap "Install" and follow the onscreen instructions to install the profile on your iPhone.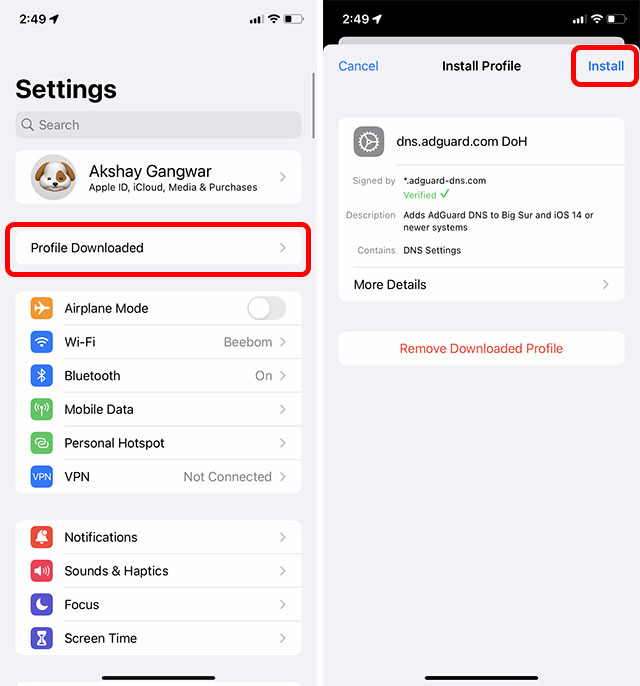 Once the profile is installed, Adguard DNS should be active on your iPhone. However, if it's not, or if you just want to check if it's been enabled, follow the steps below.
Go to Settings -> General -> VPN, DNS & Device Management.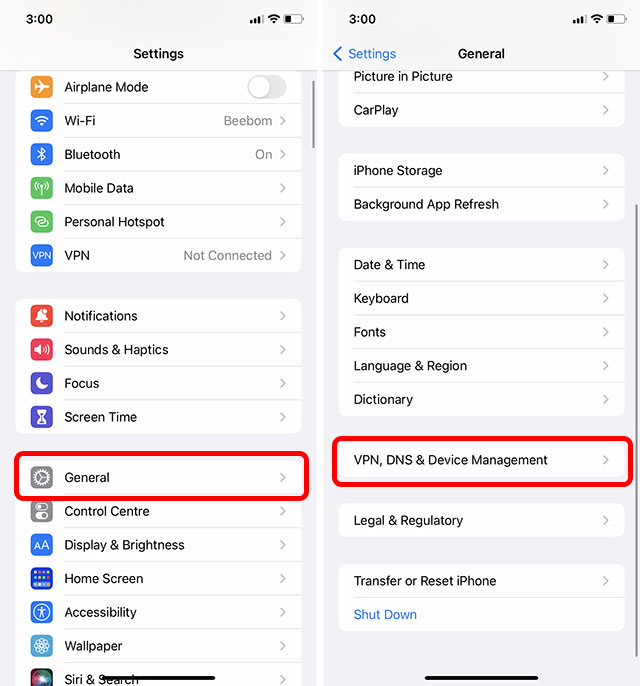 Tap "DNS" and choose "dns.adguard.com DoH" as your preferred DNS.
Pro tip: If you want to go back to using normal DNS instead of Adguard, just go to your iPhone's DNS settings and choose "Automatic".
Other Ways to Try and Block Ads
Although the method we mentioned above works perfectly and blocks all ads in all the games I've tested, if you're looking for other methods to try and block ads in your games, read on. Here are some of the best alternative ways to block ads in iPhone games.
1. Use Airplane Mode to Instantly Block Ads
No prizes for guessing! Airplane mode has long been a fairly effective tool for blocking in-game ads on iPhone and iPad. Since most ads use an internet connection to deliver ads, you can easily block them by simply turning on airplane mode. Thanks to the control center, activating this mode is a breeze.
Enable Airplane Mode on iPhone and iPad Without Home Button
Swipe down from the top right corner of the screen to access the Control Center.
Now tap on the airplane icon to activate it.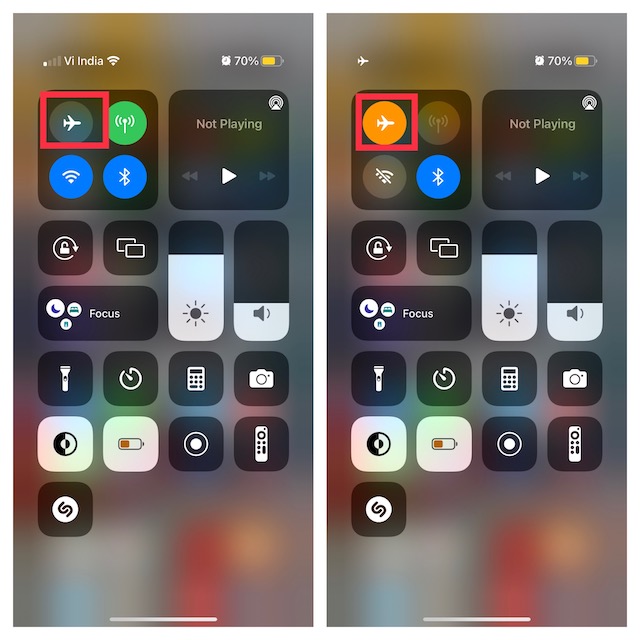 Enable Airplane Mode on iPhone and iPad with the Home Button
Swipe up from the bottom edge of the screen to reveal Control Center.
Next, tap the airplane icon to activate it.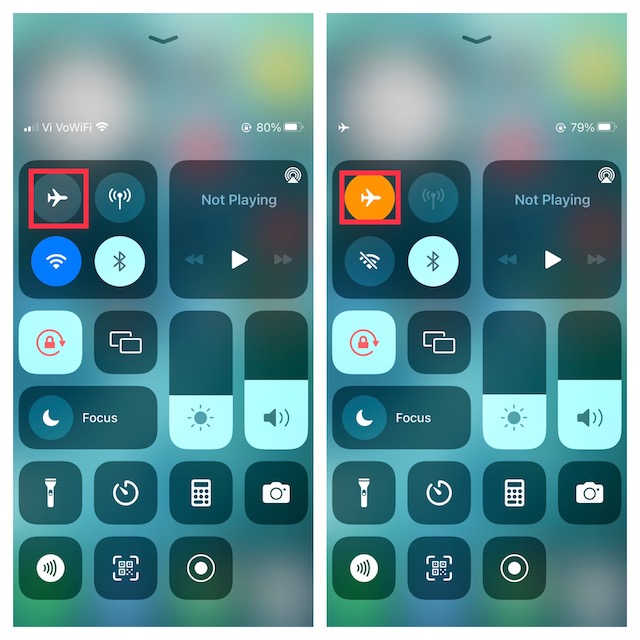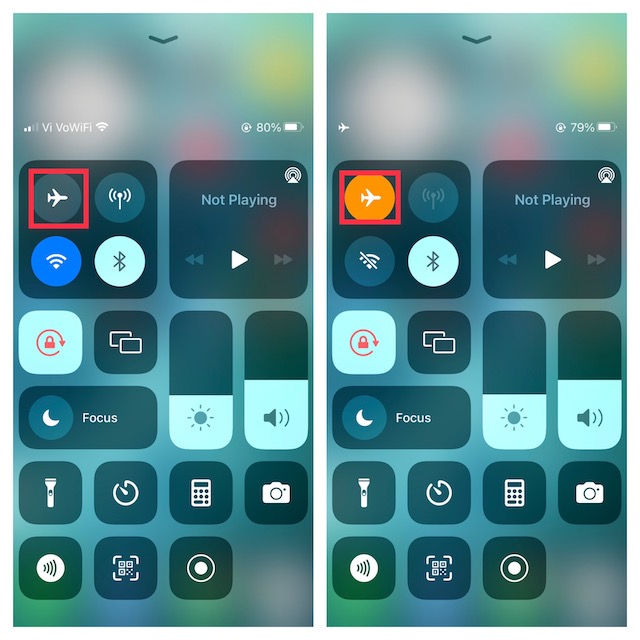 When airplane mode is on, the cellular and Wi-Fi icons are grayed out. However, unlike the cellular icon, the Wi-Fi icon can be turned on even when airplane mode is active.
Without an internet connection on your iPhone, ads will not appear in your games. So go ahead and play your favorite games with the peace of mind you want knowing that random ads won't distract you. In some cases, you may see empty spaces for ads. Keep in mind that not all games are designed to work offline and many features may not work when your device is not connected to the internet. If you are ready to deal with these inconveniences, Airplane mode trick is for you.
2. Disable Cellular and Wi-Fi from the Settings app
Another easy way to block ads on iOS is to turn off Cellular and Wi-Fi from the Settings app.
Open the Settings app on your iPhone or iPad.
Now go to Wi-Fi and Cellular settings, then turn off the toggles.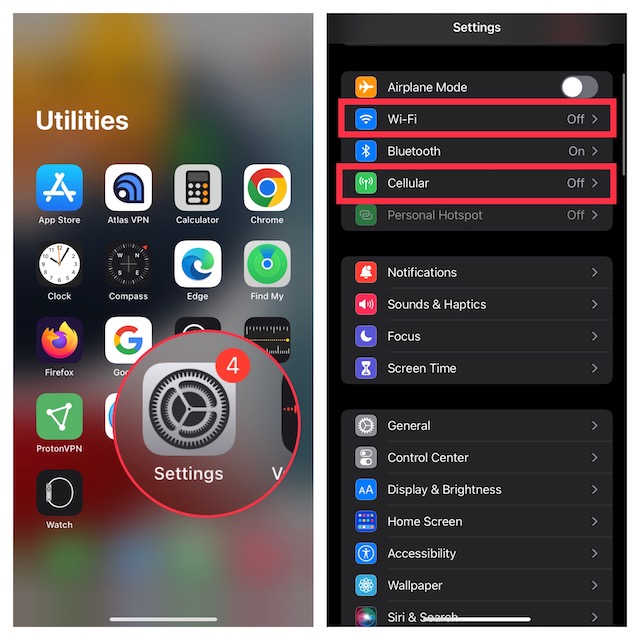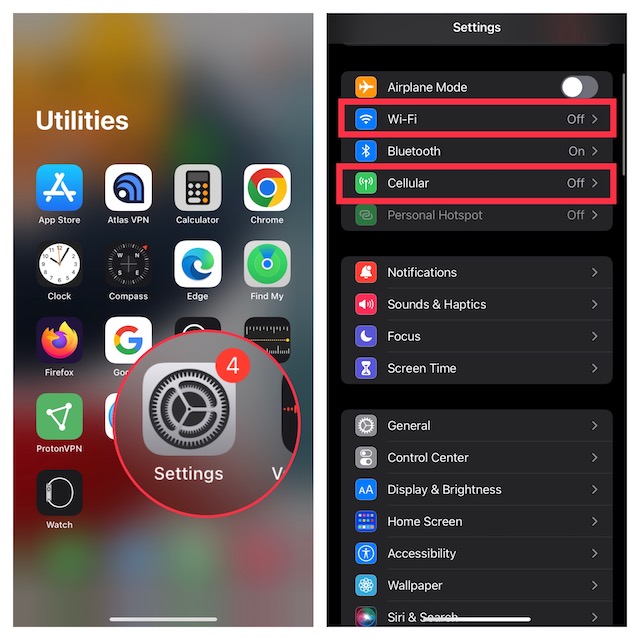 With the Internet connection completely disabled, ads will not appear in your iPhone games. So you can play your favorite games without any interruptions.
3. Disable cellular for specific games
iOS lets you manage app access to cellular data. Therefore, you can allow/disallow specific apps to access cellular data. Instead of completely disabling the internet connection on your entire device, it gives you the desired flexibility to only take certain apps/games offline. You can use this feature to block ads in your iPhone games.
Open the Settings app on your iPhone or iPad and choose Mobile/Cellular.
Now scroll down to find the game where you want to block ads, then switch off the seesaw next to it.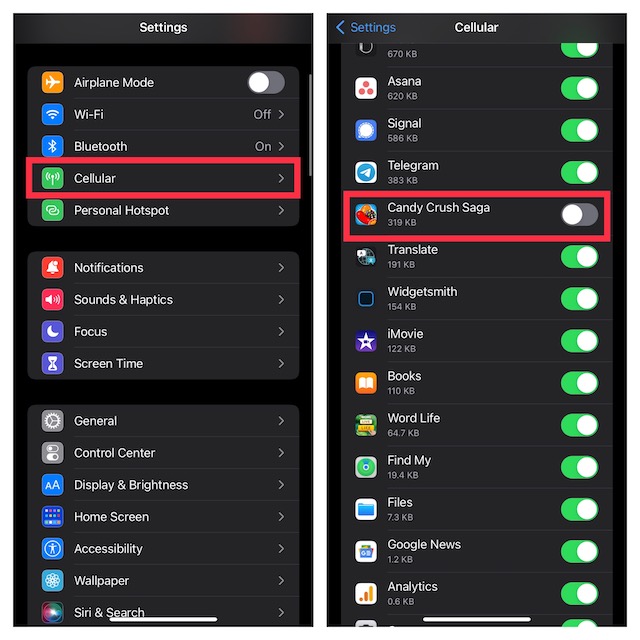 4. Use Luna Adblocker to block in-game ads on iPhone and iPad
While the App Store is full of a ton of ad blockers, almost all of them are designed for Safari. Although some adblckers claim to block ads on iPhone apps and games, they fall short of expectations. So, you have to be very selective when choosing them to block in-game ads.
After trying several adblockers – paid and free, I found Luna a safe bet. Keep in mind that installing Luna adblocker is a bit different as it does not offer a full-fledged app. You will need to install Luna's ad-blocking VPN profile through Safari and trust its certificate.
1. First, open Safari on your iPhone or iPad, then go to this link. Keep in mind that the installation process must take place in Safari, so be sure to open the link in Apple's browser.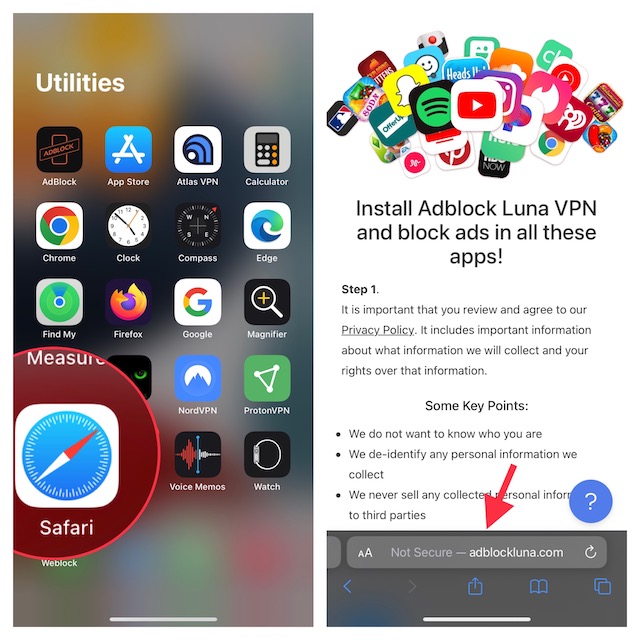 2. Now you will be asked to enter your year of birth then click Ad blocking VPN profile button.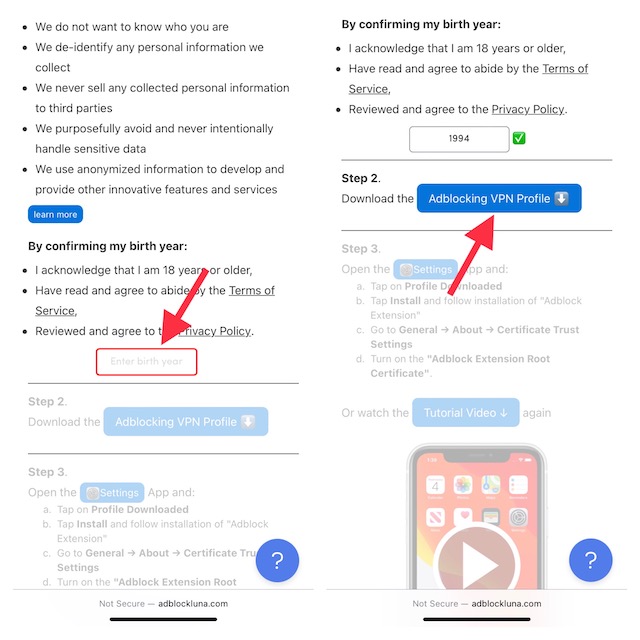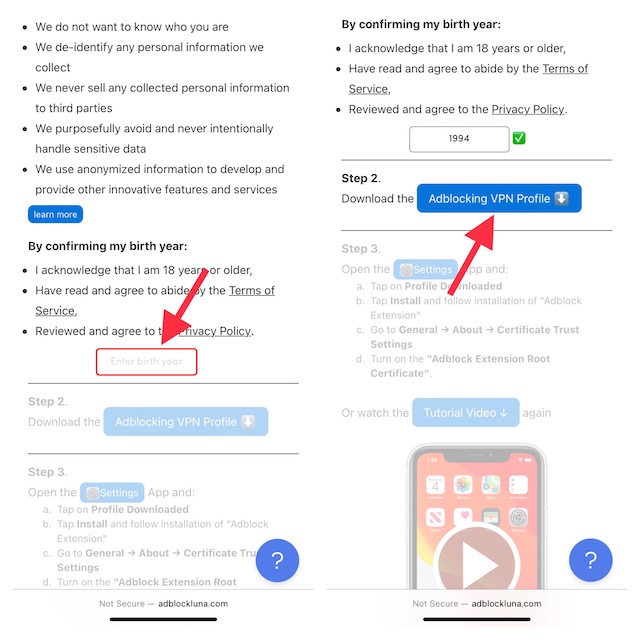 3. Next, open the Settings app on your device and tap Downloaded profile which one appears just below your profile. Note that if there is already more than one alert in the Settings menu, you will need to tap More for your iPhone/iPad and knock Profile uploaded.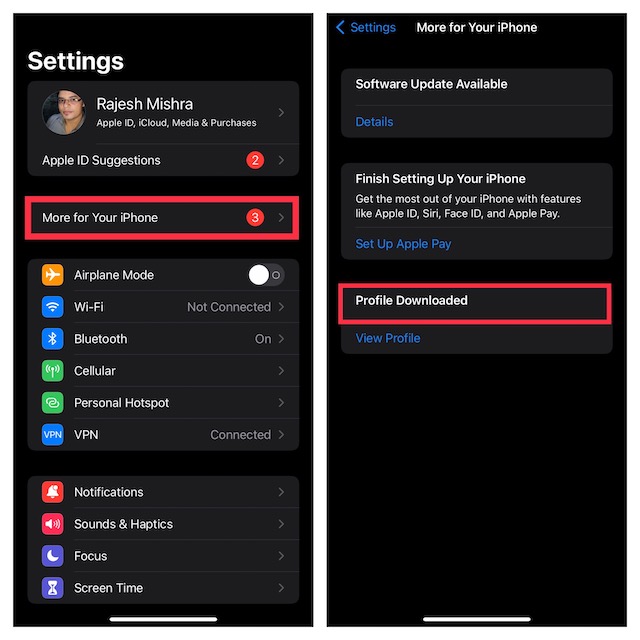 4. Then press Install at the top right, then enter your device passcode proceed.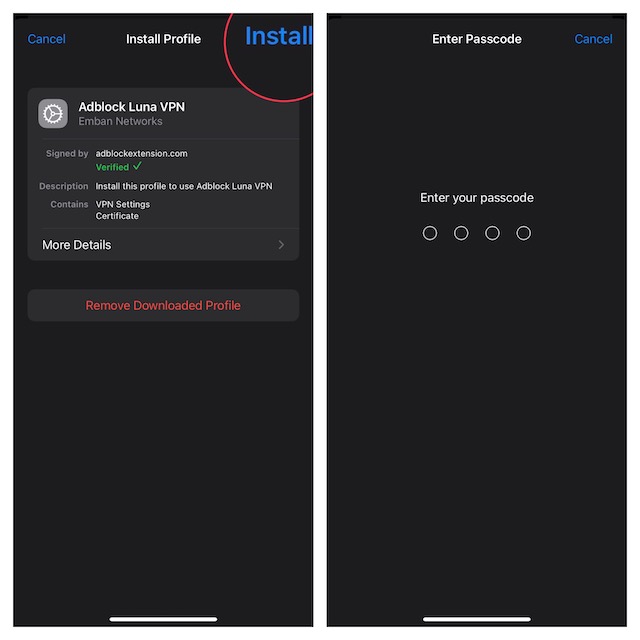 5. Now you will get a warning saying, "Installing the 'Adblock Extension Root Certificate Authority' certificate will add it to the list of trusted certificates on your iPhone/iPad. This certificate will not be trusted for websites until you enable it within certificate trust settings." Faucet Install in the upper right corner of the screen, then tap Do.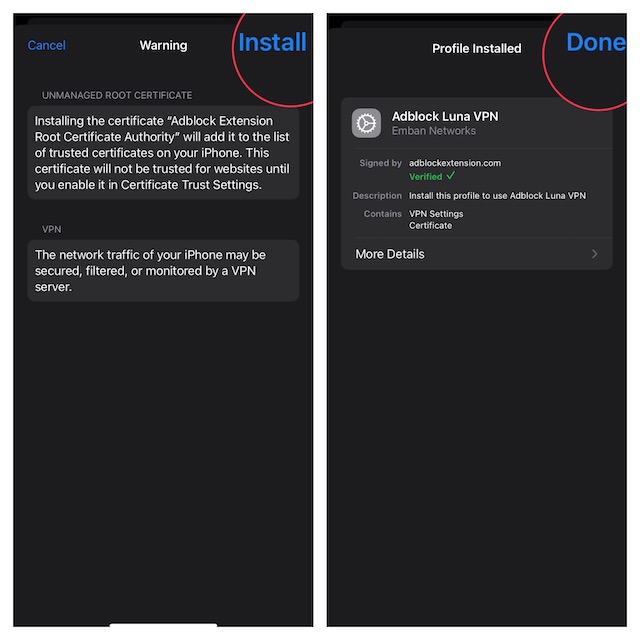 6. Now navigate to Settings -> General and choose About.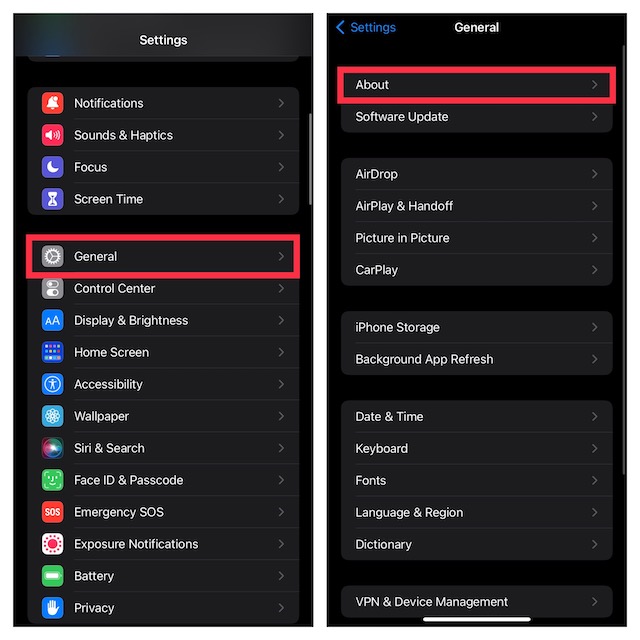 7. Scroll down and tap Certificate trust settings then make sure the toggle for Adblock extension root certification is on.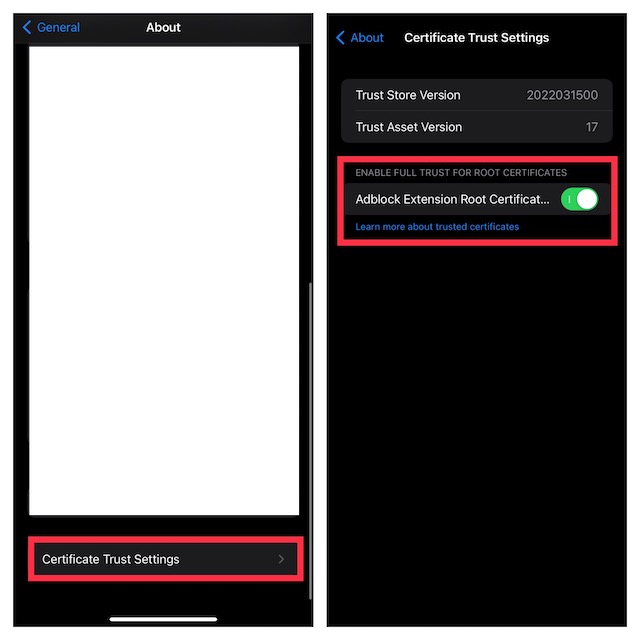 That's it! Now go ahead and play any of your favorite games without having to deal with random ads. Luna ad blocker will work reliably to keep ads at bay.
Enjoy ad-free games on your iPhone and iPad
Well, this is how you can easily block ads in iPhone games. Whether you use Adguard DNS, or an alternative such as the Luna ad blocker, or something else, we hope you can now play your favorite games ad-free. So which method worked best for you and what is the method of choice you use on your iPhone to block ads? Let us know in the comments below.