So you've got a brand new Apple TV 4K, and now that you've finished setting up the basics, you might be looking to get some of your favorite apps. Well, it's really very easy to add apps in Apple TV, and there are many ways to install apps, and even rearrange apps on Apple TV 4K easily. So whether you're looking to play amazing Apple TV games or install your favorite streaming services like Netflix, here's how to add apps into Apple TV.
Install apps on Apple TV (tvOS) in 2022
Whether you're trying to find and install a new app, redownload a previously used app, or rearrange your tvOS home screen the way you want, we'll cover it all in this guide. As always, you can use the table of contents below to jump to any section you want to learn more about.
How to Add Apps in Apple TV
Let's first look at how to install new (and already used) apps on your Apple TV. We'll look at downloading new apps and redownloading apps on Apple TV.
Install new apps on Apple TV
On your Apple TV, open the App Store.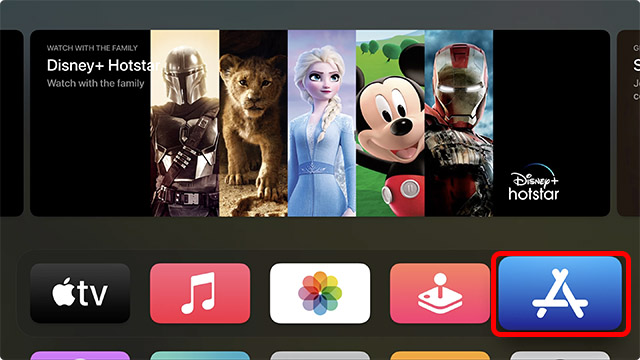 Here you can check out the best apps according to Apple in the "Discover" tab, or head to one of the other tabs to see apps, games, Apple Arcade games for Apple TV, and more.
Go to the "Search" icon in Apple TV.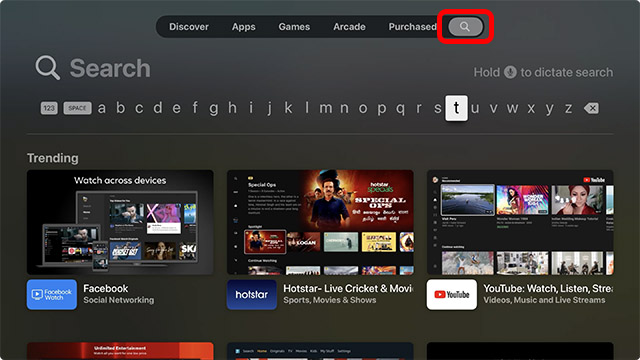 You can now type to find the app you want or press and hold the "mic" icon in the Apple TV remote to dictate the app you're looking for. In this example, we will search and install "Just Watch".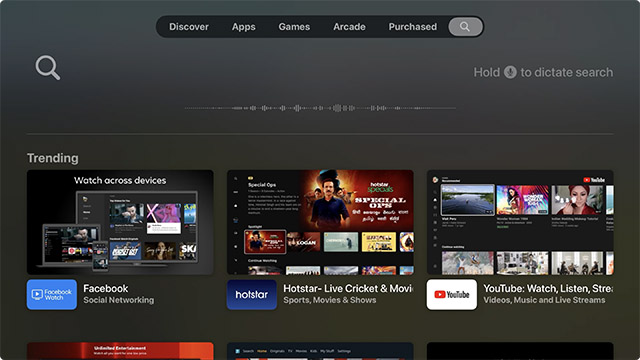 Once you've typed (or spoken) the name of the app, select it from the results below.
Press the middle button on the remote control to open the App Store page of the application, then click the "Get" button. If it's an app you previously downloaded, you'll see the re-download icon instead (cloud with a down arrow icon).
To note: Your Apple TV may ask you to confirm your Apple ID password before downloading the app. You can use your iPhone to enter the password easily. You can also use your iPhone to control your Apple TV.
How to redownload apps
If you ever purchased or downloaded an app on your Apple TV 4K and later deleted it, you can still access it fairly easily. Here's how to redownload apps in tvOS 15, by searching for them or finding all purchased apps you've used on your Apple TV.
Re-download apps by searching
Open the App Store and go to the search tab.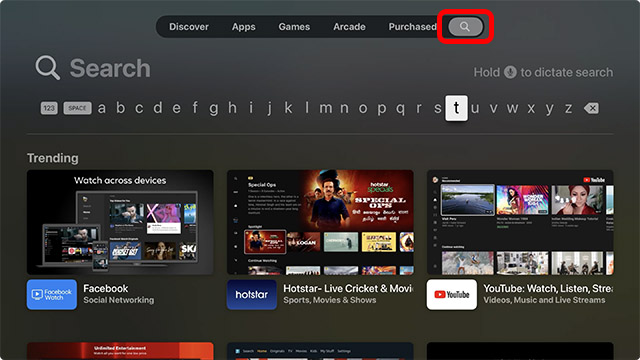 Here, find the app you want to redownload. For this example, I will reinstall the Prime Video app.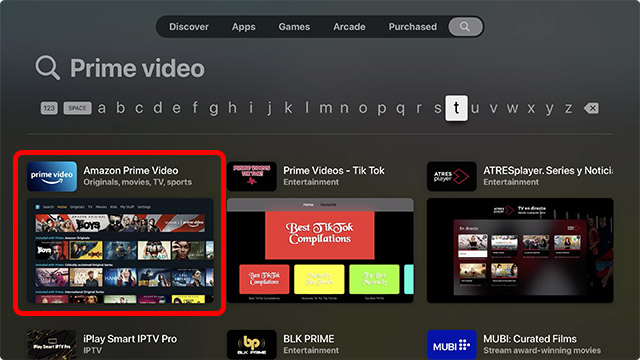 Open the App Store page of the app and you will see the re-download icon as shown in the screenshot below. Simply click on this icon to reinstall the application on your Apple TV.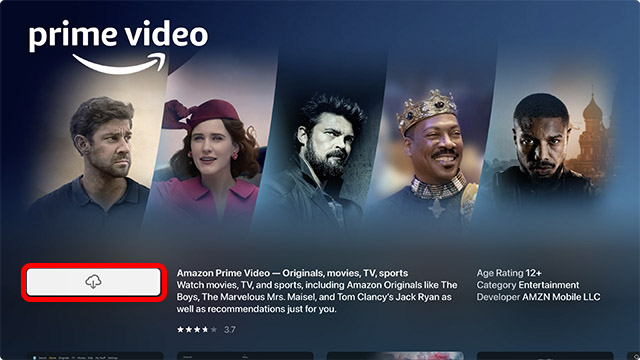 Find purchased apps in the App Store
If you can't remember the name of the app you want to reinstall, you can find all of your previously used, downloaded, or purchased apps quite easily. The best part is that if you've used the app on another Apple TV signed in to your Apple ID, it will also show up on all Apple TVs signed in with the same Apple ID.
Open the App Store and navigate to the "Purchased" tab.
Here you can use the filters on the left of the screen to easily find the app you are looking for.

Recently Purchased: These are apps you've recently downloaded, whether they're currently installed or not.
Not on this TV: These are apps that are in your library but have not been installed.
All Apps: These are all apps that you have purchased or downloaded to any Apple TV signed in with your Apple ID, whether or not they are currently installed.

Find the app you want to install by navigating to the "Purchased" section and open its App Store listing.
Then click on the new download icon to reinstall the app on Apple TV.
That's it, the application will now be installed on your Apple TV, and you can find it on your home screen.
How to Rearrange Apps on the Home Screen in tvOS 15
Now that you've installed a bunch of your favorite Apple TV apps, your home screen might look a little cluttered. Maybe you want to organize your apps in a particular order by frequency of use, or maybe you just want to update your top row so your favorite apps can show suggested content. Either way, here's how you can rearrange apps on the tvOS 15 home screen.
Select the app you want to move and long press the center button on your Apple TV remote. The app will start shaking.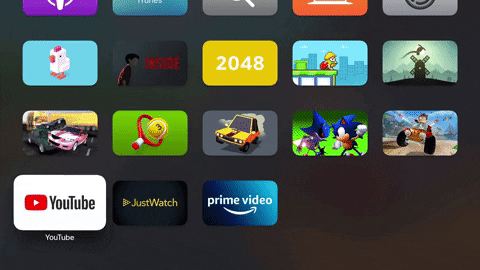 You can now move the app to the home screen and place it wherever you want.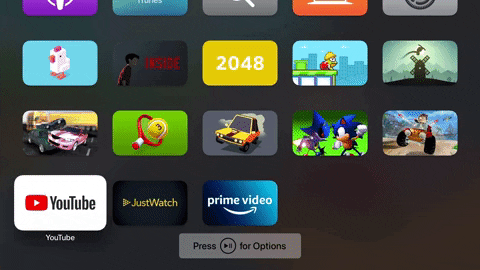 How to Create Folders on the Apple TV Home Screen
For even better organization, you can create folders on your Apple TV home screen. Here's how.
Long press an app to enter jiggle mode.
Move the app so that it hovers over another app on the home screen. In a second or two, tvOS will create a folder as you can see in the GIF below.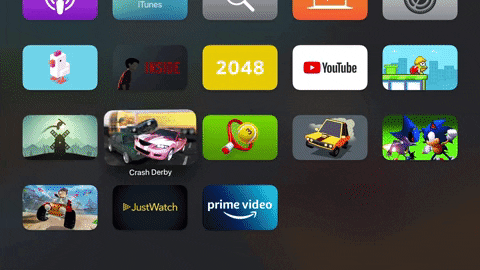 Just press the middle button on the remote to add the app to the folder, and that's it.
Bonus: Switch Between Open Apps and Force Quit Apps on Apple TV
Did you know you can multitask on Apple TV? Yes, you can, and it's actually very easy to do too. Moreover, you can very easily force quit apps on Apple TV if an app malfunctions.
Double-press the TV button on the Apple TV remote. This will open the recent apps screen on your Apple TV.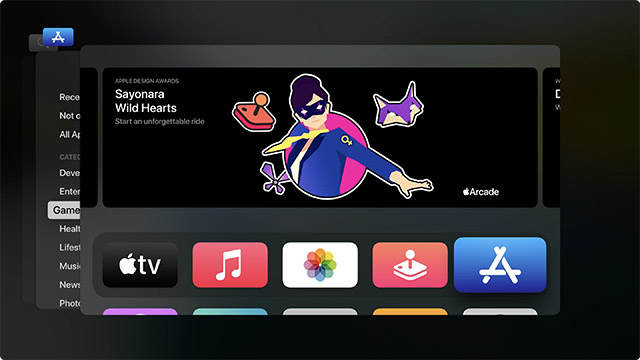 You can now scroll through app cards to switch to another app.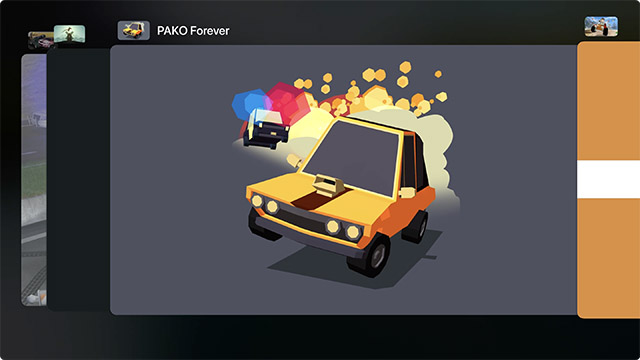 Additionally, you can select an app from the recent apps screen, then swipe up on your Apple TV remote's trackpad, and it will exit the app. It's similar to how it works on an iPhone, so it's pretty intuitive.
Get your favorite Apple TV apps now
This is how you can easily add apps in Apple TV and get all your favorite Smart TV apps in one place. Plus, you can rearrange your home screen so your most-used apps are front and center, and you can even create folders for better organization. So what apps do you use on your Apple TV? Let us know in the comments. In the meantime, you should also check out the 25 Best Apple Arcade Games for Apple TV.